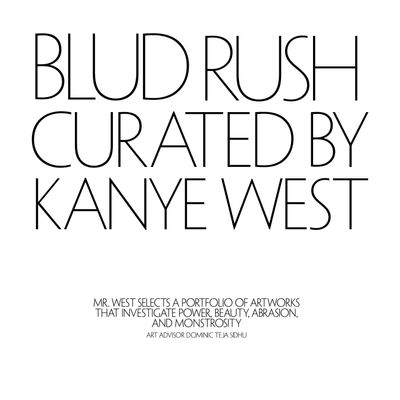 A spread from CR Fashion Book, issue 6.
Photo: Courtesy of CR Fashion Book
Dilettante of the year Kanye West is still hard at work buffing his résumé. He's been fond of the title "curator" for a while, and in the new issue of CR Fashion Book, he puts his chops to the test. Inspired by the theme "Jolie Laide," Kanye has curated a selection of art by artists including Richard Prince, Anish Kapoor, Paul McCarthy, and Cecily Brown, which he's titled "Blud Rush." As a companion text, he offers the following angsty reflection:
To create an expression is close to innoncence. Childhood is stolen from you with every judgment made, innocence stolen with it. You go into a room alone and try to collect the pieces of your life and meet your monster.

Everyone has a monster that hunts them—monsters inside and outside. I have fought monsters. And have turned into a complete monster in the midst of the fight.
Cryptic! Look for Kanye's full curatorial debut in CR Fashion Book issue 6, which hits newsstands today.