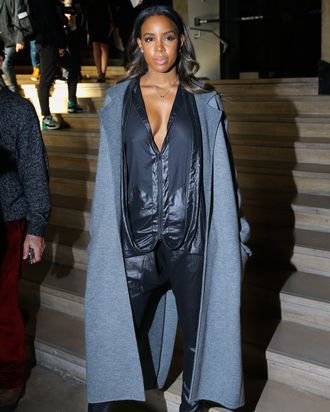 Kelly Rowland at Barbara Bui.
Photo: INFphoto.com/SplashNews
Kelly Rowland showed up at Barbara Bui's Paris Fashion Week show in what is probably the most uncomfortable garment of all time: the full-length leather jumpsuit. She looked great, of course, but it combines all the worst elements of clothing: inconvenience (how will you use the bathroom quickly?), lack of breathability (so much sweat), and an overall tactile resemblance to those suits wrestlers wear when they want to make weight. We hope you are okay, Kelly, and for enduring a sweaty, peeless day, we tip our hats to your noble self-sacrifice in the name of fashions.