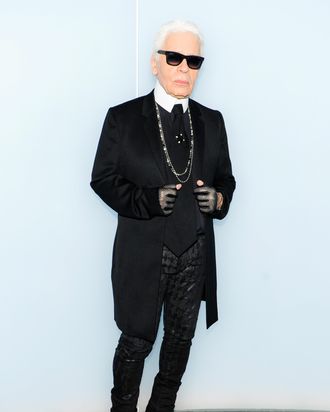 Karl Lagerfeld.
Photo: Neil Rasmus/BFAnyc.com
Karl Lagerfeld mostly wants to talk about his cat. He is in New York for 48 hours to present his Paris-Salzburg collection tonight, but he is less interested in that than he is in Choupette, who is in her own room with her own maid at the Mercer Hotel. After the requisite looking at iPhone photographs ("Choupette on the plane. No security belt!" and so on), Lagerfeld talked business. Kind of.
Why Salzburg?
Because there was a story that Coco Chanel said that she had the inspiration for the famous Chanel jacket in Austria. There was a hotel where the lift boy had a jacket like this.
You've been doing collections all over the world.
Let's not exaggerate. The world is very big.
Okay, let's say you've been doing collections in varied places. Why?
I don't have to go to a place to spend time there, to get involved. It's all in my imagination. It's not a reconstitution. It's an evocation, which is very different. We are not into historical detail, we are into mood. I have a girl who works for me who is from Korea, and she is afraid — she says we are not Korean enough, and I say I don't want to be Korean. Forget about your folklore. I can take a few inspirations, but I can certainly not do an homage. That's not my trip. I'm a fashion vampire. I take what I need and I leave the rest.
So what are you going to suck out of New York?
Nothing. I see nothing, I do nothing, I do everything from my room in the Mercer, working at my desk on things with Choupette keeping me company — I don't force her, by the way. She comes naturally.
If you stay inside all the time, where do you find inspiration?
I have kind of flashes in my mind and I try to put them on paper. Thinking? No. That is too serious. I am kind of good with words, so I could tell you a complicated story about inspiration or whatever, but no. In fact, I don't even know myself. That is the big secret of the story. That there is no story. I see things in the middle of the night. I draw them on paper and I don't even think about it. I'm like a machine in a way — just made of some electronic stuff. Vaguely digital.
So you never go out?
I imagine the world from my window. I'm happy wherever I am. I'm very happy to be in the Mercer right now because I bring myself with me wherever I go, thank God. Traveling, I think it's a nightmare today. The airports and things the people in the street with the selfies … I like to stay at home and read.
What are you reading?
I will not talk about that. I like to read biographies, history, philosophical things like this. But it's for my private use, and not for making people say, Oh, how clever this stupid man is. I don't make intellectual conversation. I'm very superficial. I'm just a fashion designer. Fashion designers look at fashion magazines, right?
Do you watch movies or TV?
I don't go to movie theaters because I don't want to be photographed by strangers. People bother me wherever I go. I like to imagine the world my way. I don't want second-rate images of the world.
But you are very much interested in the world around you.
Oh, of course. Ivory-tower designers are from another era.
What were you going for with the protest show?
My mother was a feminist. One of her heroes was Hedwig Dohm, who started to be a feminist in Germany in the 1800s when women had not a great position. People don't refer to her enough in this world. And my mother, you know, she thought women should be alive … she would always tell the men around her how things should be done. She was very tough, and very nasty. My father was very sweet and her victim. My father found exactly the wife that was not for him. He could never relax.
Whom are you more like, your mother or your father?
I am more like my mother. She used to say, You look like me but not as good. And this is just the kind of line I use.
Tell me more about Choupette. Has she changed your life?
It's a miracle in the story. Choupette was not even given to me. Choupette belonged to a friend of mine who asked if my maid could take care of her for two weeks when he was away. When he came back, he was told that Choupette would not return to him. He got another cat who became fat, and Choupette became the most famous cat in the world, and the richest. She did two jobs and made 3 million euros last year. One was for cars in Germany and the other was for a Japanese beauty product. I don't allow her to do foodstuffs and things like this. She's too sophisticated for that. She had something unique. She is like a human being, but the good thing is that she's silent. You don't have to discuss it. She hates other animals and she hates children. She stays always with me and she has two personal maids. They play with her, they have to take care of her beautiful white hair, the beauty treatments for her eyes, and they entertain her. She is the center of the world. If you saw her, you would understand. She is kind of Greta Garbo. There is something unforgettable about her, the way she moves, the way she plays. She's an inspiration for elegance. For attitude.
Has she changed you?
Maybe I became a better person perhaps, I don't know. Less selfish, I guess? I think it's grotesque, but what can you do? I believe in the unique. This is not just something to keep me company. It's only great because of the uniqueness of her.