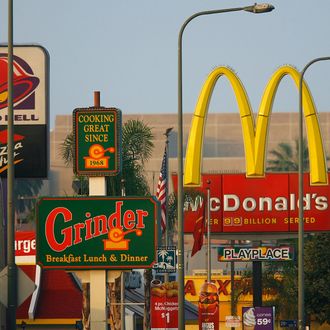 Photo: David McNew/Getty Images
In 2008, the Los Angeles City Council passed a new ordinance banning the construction or renovation of stand-alone fast-food restaurants in several neighborhoods. It was, and is, one of the most notable attempts to improve nutrition and fight obesity in this way that has ever been attempted in a big American city. And according to a new study by the RAND Corporation published in Social Science & Medicine, it doesn't appear to have accomplished anything.
The researchers, Roland Sturm and Aiko Hattori, examined both the types of new food establishments that have opened in the affected neighborhoods — which they call "South Los Angeles," for short — and nutritional data they gathered on the neighborhood's residents, comparing both to other, demographically similar parts of L.A. and Los Angeles County.
They found no differences in the rates of new fast-food restaurants opening in South L.A. versus the rest of the city, and also that, generally speaking, the health disparities between South L.A. and the rest of the city had actually widened since the ordinance went into effect. Part of this, they think, is that the policy was poorly targeted: Tons of fast-food restaurants open or reside in retail spaces that aren't freestanding and therefore were unaffected by the ban. The ones that were affected tended to have drive-through windows, which weakens the connection between their existence and the degradation of neighborhood health (since they're likely to attract a lot of customers from other neighborhoods).
There also may have been a fundamental misunderstanding driving the policy, Sturm and Hattori write. It was motivated, in part, by a Los Angeles Times report that, as an early form of the fast-food ban put it, "found that 45% of the 900 restaurants in South LA are fast-food outlets with minimal seating, compared with 16% of 2200 restaurants in the west side of the city" — indicating that poor and minority areas were flooded with unhealthy fast-food options in a way more affluent parts of the city weren't. But that study "counted any restaurants with seating for less than 10 as fast-food, regardless of the type of food produced," the new paper notes — and since these restaurants mostly weren't freestanding, they wouldn't even have been affected by the ban anyway!
And none of this, of course, even touches on the more fundamental questions about whether one should even expect slowing the rate of new fast-food options to affect the eating habits of a neighborhood's residents. Given how many other factors are at work, the presence or absence of a McDonald's a few blocks from one's home just might not, on its own, make all that big a difference.
As anyone who has worked in government can tell you, it's easy for good intentions mixed with a lack of detailed data or forethought to lead to ineffective policies. It looks like L.A.'s fast-food ban may end up being an example of this.