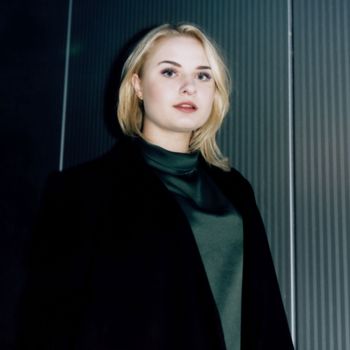 Holly Lapsley Fletcher.
Photo: courtesy photo
Låpsley, an 18-year-old musician from outside of Liverpool, writes music that brings to mind every introvert's favorite maxim: Being alone isn't always lonely, and being together isn't always the opposite of loneliness. Her songs "Brownlow" and "Station" (music-blog favorites, plucked from her SoundCloud) are about the moments just before and after going on dates, which bookend solo time that can feel even more emotionally fraught than the date itself, at least in the typical teen mind-set. Låpsley's sonic realm is the solitary, feelings-buffering zone.
A couple weeks ago, I met Holly Lapsley Fletcher at the Soho studio where she was recording her first album. The couch was widely oversize, it was a Friday afternoon, the sun was streaming in a nap-inducing way, and Holly was lounging like a relaxed puppy. She had been in New York for six days, seeking a change of scenery. I ask whether the city has any influential effect on her song-writing, and she replies in a friendly manner — but as if the answer should be obvious — "It's still me. My creativity doesn't change, in a small room or a big room, or any weather. I'm not fussy in that sense."
She does confess to fussiness regarding control of what she sings. "I don't think you can write about something unless you experience it; that's why I don't think I could work with co-writers," she says, "because how could they sing about something that's not their experience? How can they know about your experience?"
Låpsley rejected her classical music training (mastery of the piano, oboe, and classical guitar) for house-music raves on the Liverpool piers starting when she was 14. She has an ideal vision for her sound that "mixes the two extremes," and a determination to achieve it, despite only being able to build a few layers in GarageBand.
This ignorance provided creative limits and the austerity that characterizes her music. "My naiveté about production helped me master a minimal sound," she says. She records spontaneously, writing as she goes. She wrote "Station," the most popular song from her LP with over 800,000 listens on SoundCloud, in two hours.
Influential Irish DJ Annie Mac presented Låpsley in her popular annual compilations, and praised her "incredibly accomplished" musical talents, while Vice's i-D excitedly wrote about her "about-to-blow-up buzz." She seems to be taking the attention in stride, though she seems a bit surprised by the enthusiasm. "I never wanted to be an artist, I just made a SoundCloud and put Låpsley on it," she says. It's her mother's maiden name, and she says she likes the Scottish meaning of Låpsley: "keeper of the lock."
Most of her songs, in her words, are about "boys." She says this with a faux-ditz inflection that might best be rendered as ~*bOYsS*~. The goofy voice lasts for a second, before she calmly explains, "I'm always unlucky in that sense." In the tradition of memoirists and Taylor Swift alike, her misfortune provides good material.
Låpsley used to sail competitively, but found the politics of working with teammates difficult. She gushes about the unadulterated happiness of sailing alone. "Sailing is just a sense of freedom, especially when you're helming. It's what men get out of driving really fast," she says, "that's like me in my boat." There's that sailing-alone rush in her music, the feeling of distancing yourself and creating a tiny island that's just you, so you're remote to everyone but yourself. Her songs acknowledge that this can be a scary, independent feeling. In "Brownlow," she compares leaving her person to "jumping into a pool that I don't know where the bottom end is." She keeps echoing with confidence, "but I know, I know."