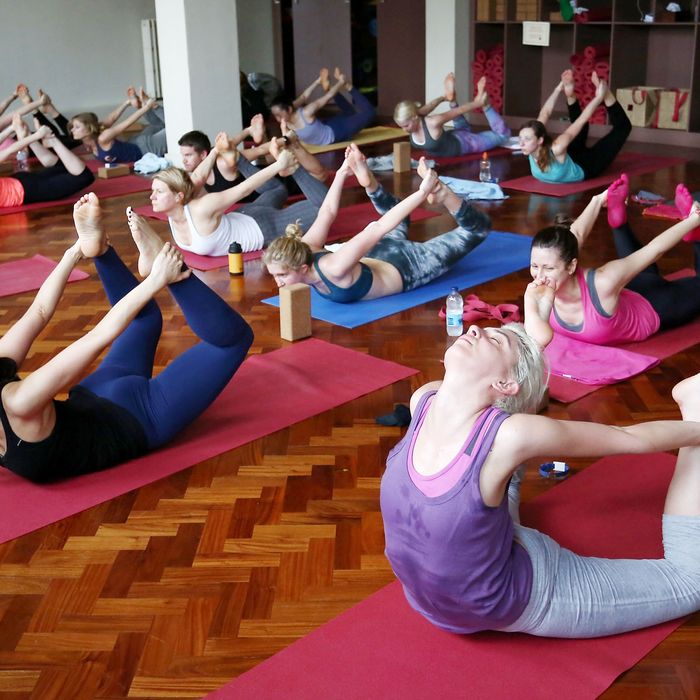 A Lululemon yoga class.
Photo: Tim P. Whitby/Getty Images
When you think of the items that command a staggering online resale value, you're more likely to imagine Céline luggage totes and Chanel 2.55s. Yoga pants would probably not be on the list. However, Racked reports that Lululemon is one of the hottest properties in the field. The items sell via private Facebook groups, which number over 100, or on eBay, where the markup can reach 1,000 percent, with running shorts going for $800. On Tradesy, a popular consignment site, the brand comes in fourth, after Chanel and Louis Vuitton, in terms of desirability. Said its CEO Tracy DiNunzio, "We'll sometimes see similar interest with middle-market brands, but this type of demand is unheard of for athleisure."
On the FAQ section of its site, Lululemon states, "We completely recognize that once someone purchases our product they can do what they want with it. We do not, however, support those who acquire large volumes of our product to resell at an elevated price point." In the past, it has even gone so far as to ban customers who were also resellers, though it has since reneged on that practice.
Still, Lululemon superfans — like the anonymous blogger behind Lululemon Expert, who calls the clothes her "wearable art collection" — are proof that the company has built a fiercely loyal following. One key has been brand recognition: As athleisure becomes ever more chic, it's closely associated itself with a certain kind of active, enlightened lifestyle. And, smartly, Lululemon keeps its product offerings intentionally scarce, so that "It" items often sell out. It's a strategy that luxury houses could learn a lot from.