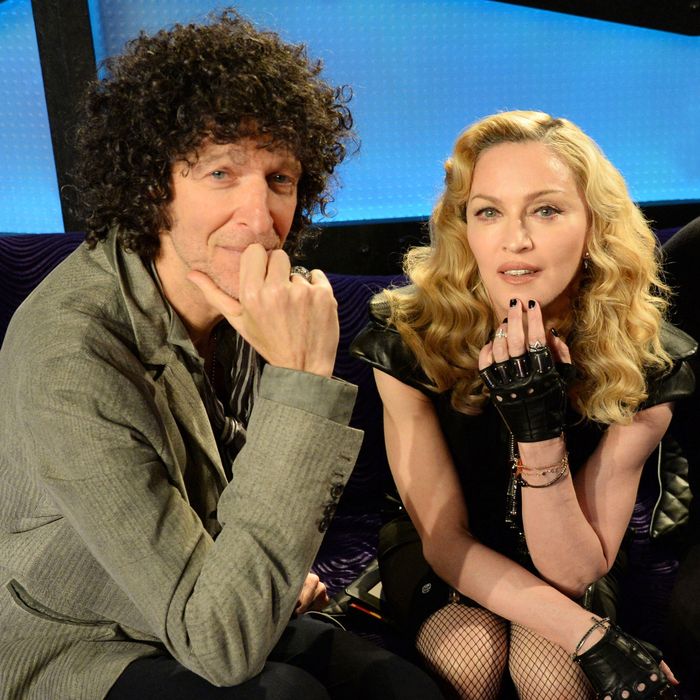 Howard Stern with Madonna.
Photo: Kevin Mazur/WireImage
Yesterday, while visiting "The Howard Stern Show" to promote her Rebel Heart album, Madonna spoke about being raped as a young woman in New York. At 19, she left her native Michigan and moved to Manhattan with $35. It was 1978*. "First I was in shock, I didn't know a soul," she told Stern, adding, "I was saying hi to people on the streets like a dork." Within that first year, Madonna's apartment was broken into three times, she was held up at gunpoint, and raped at knifepoint.
A stranger sexually assaulted her after a chance encounter. "I was going to a dance class and the door was locked and I needed money for the pay phone," she said. "[A man] gave it to me … he was a very friendly guy. I trusted everybody." He convinced her to make the call from his apartment across the street. When she went with him, he raped her.
Asked by Stern and co-host Robin Quivers if she'd ever called the police or pressed charges, Madonna echoed the experience of numerous rape survivors: "You've already been violated. It's just not worth it. It's too much humiliation."
This isn't the first time Madonna has opened up about sexual assault. In the 2013 "Daring" issue of Harper's Bazaar, Madonna wrote an essay in which she acknowledged New York "didn't welcome me with open arms." She recounted the numerous assaults she experienced in her first year, writing that she was raped "on the roof of a building I was dragged up to with a knife in my back."
She first revealed that she was raped in 1995, during an interview with a British music mag. "Although it was devastating at the time, I know that it made me a much stronger person in retrospect," she said. "It forced me to be a survivor."

*This post has been corrected to show that Madonna came to Manhattan in 1978, not 1973.