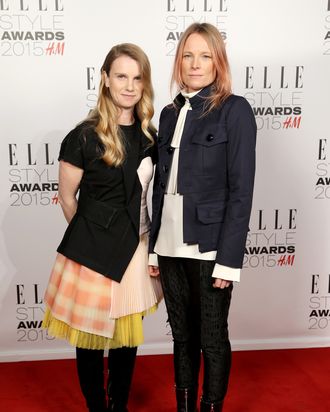 Katie Hillier and Luella Bartley.
Photo: Mike Marsland/Getty Images
When Marc Jacobs announced last week that he would fold Marc by Marc Jacobs into the main Marc Jacobs line, it was not immediately clear what would happen to the brand's "soul-mate" designers, Luella Bartley and Katie Hillier. Now, the two have announced that they will form their own luxury brand, Hillier Bartley, which will launch with a fall 2015 collection of ready-to-wear, bags, and accessories.
"Hillier Bartley is a very personal project, which Katie and I have been working on for years," says Bartley of the line in a release. "We have also looked at the women we admire, what we would want to wear, and the inspirations that have been close to us for ages. Its ultimate heroine lies somewhere between Ian McCulloch and Katharine Hepburn. It's about a woman our age, indie by heart, rakish and irreverent by nature, who is maturing into refinement and naturalness."
They have not yet released images of the collection, but when it lands at select stores in August, expect to find a mix of "classic English references" and "a masculine elegance" on the racks.