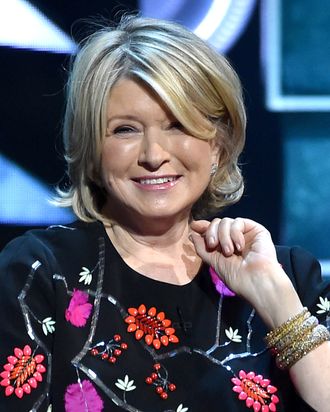 Martha Stewart.
Photo: Kevin Winter/Getty Images
Founder of "this whole category of lifestyle" Martha Stewart has deigned to give an aspiring lifestyle entrepreneur the time of her day. For Stewart is a generous queen of the lady-moguls, and accepts fealty with equanimity and polite acknowledgement.
She said "Fine" to the idea of Gwyneth Paltrow having a website. She allowed Blake Lively to defend herself on a panel. Now, she's patiently described her beauty routine on Into the Gloss, as its founder Emily Weiss escalates the website into a lotions company. Stewart's beauty routine involves commentary such as "I think, even when you're busy, that you should always continue to learn as much as you can about business and dealing with people." Just a thought, from Martha. She sees you.