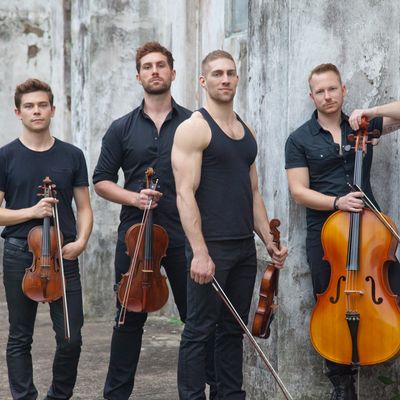 Well-Strung.
Photo: Scott Henrichsen
The first thing I registered about Well-Strung — New York City's only all-male singing string quartet with a thing for Miley Cyrus covers — was second violinist Chris Marchant's arms. I stumbled across his Twitter avatar, and that led me to his band's website, where I confirmed that Marchant prefers to play the violin in skintight tank tops. With producer Mark Cortale, he's the co-founder of a group whose repertoire includes both "Your Love Is My Drug" and Vivaldi's "Summer."
Well-Strung likes to play up its heartthrob status: "One Direction step aside," reads their website bio, "there's a new kind of boy band on the circuit." But they are more than mere hunks; they also have impressive résumés in the realms of musical theater and classical performance. Since debuting at Joe's Pub in the spring of 2012 — and building a die-hard fan base in Provincetown, Massachusetts, that summer — they've garnered mentions from the New York Times, and praise from Gayletter and Classiques Modernes. This winter, the Cut caught up with the guys by phone while they lounged poolside in West Palm Beach. We talked cabaret, lifting, and Pink. You can catch them tonight at 54 Below, performing Taylor Swift and Lorde covers from their new album, POPssical.
What inspired you to start a quartet?
Chris Marchant: Are you familiar with Naked Boys Singing? It's exactly what it sounds like. It's six guys singing about nudity, and they are all naked while they do it. I was living in Provincetown, Massachusetts, doing that show in the summer of 2010, and in my spare time I played violin on the street to make extra money. I ended up going to brunch with a producer in town, and we were like, Why don't we just make a quartet? So, we started holding auditions.
Have you always been so confident?
C.M.: I was actually very afraid to play violin on the street at first, because I'm not much of a solo performer. As a kid, violin came really easily. But the latter half of my training, learning about the finesse and nuance, has been harder. I'm actually in lessons now to keep getting better. I've always been pretty hyperactive and on the go, and when that mentality bleeds over into my violin, or my weight lifting, the energy gets in the way. When we started casting for the group, I was like: The other violinist that we cast has to be better than me, no question. Has to be.
What inspired you to incorporate pop music into your performances?
C.M.: Whenever I finished playing Bach or Handel on the street in Provincetown, I would put in my headphones and listen to Top 40 on my iPod. People would stop me on the street and say, "Oh, you're the violinist! What are you listening to?" And I would be like, "I'm listening to Britney Spears." It was kind of a cool juxtaposition. I love low art, and I love high art. For me, there's enough of a through line in music that you can put them next to each other and just express the best parts of both kinds.
Do all of your shows balance pop and classical?  
C.M.: In our current show, some of the songs take the opening of a classical piece and then go into a pop piece. We try to pick composers that people have probably heard at one time or another, so that they can connect on a personal level. So, we have a good bit of Mozart in our shows. There's Grieg and Beethoven, and Bach, too. And then on the pop side, I love our Miley Cyrus "Wrecking Ball" cover. And we do this great mash-up of Lorde's "Royals" with composer Karl Jenkins's "Palladio," which people remember from the De Beers diamond commercial in the '80s. But my personal favorites are Kesha and JoJo and Pink. We used to do "Your Love Is My Drug" all the time, and we do Pink almost every show. The song that has my attention right now is Taylor Swift's "Blank Space," which I'm working on arranging at the moment.
Edmund Bagnell, first violinist: I also really love the Maurice Ravel string quartet that we do. It's just so stringy! It's French Modern, which is, you know, modern from 1912, but it's still very fresh. And then on the pop side, we have this arrangement of Britney Spears's "Toxic." It's also really stringy. It's a little off kilter and dark, and strings can be so dark sometimes, too. They suit each other.
Do you guys make your own arrangements?
Daniel Shevlin, cellist: It's kind of hard to explain. When you listen to a lot of music, you start to hear certain themes and notes and melodies that make you think of other songs. Like with Kelly Clarkson and Mozart: I would start singing Kelly Clarkson and then hear Mozart over it. And then it's like: Oh, these totally work. So, it's a kind of similar thing that a lot of DJs will do — mashing things together, except with a classical song.
As a group, do you guys feel pressure to be buff?
C.M.: Yeah. I mean, of course we want to be told we're good-looking, and that's fantastic. Every band wants sex appeal, and we're fine with that, as long as the music comes first. I've actually noticed some cool parallels between practicing the violin and lifting weights. With both, I have to really take my time and concentrate on using only the necessary muscles. When I use too much of my body for either, it often takes away from my nuance and precision. So, when I'm at the gym I have to really think about what muscle is supposed to lead the exercise at any given moment. Same for the violin. I need to get all of the other muscles to relax and stay out of the way while I use the proper ones. Being big and bulky makes it a bit harder to stay relaxed and dexterous.
How do you go about coordinating your look for a performance?
Trevor Wadleigh, violist: We have these massive, exhausting shopping trips in New York where we go to a million different stores and try on looks. And we'll definitely tailor the look to each venue. Like, if we're doing an arts center, we'll dress it up a little bit. Wear funky blazers or something like that. But we definitely want to look cool in a pop way, rather than a classical way. Zara and H&M are great, and Guess has definitely done us right in the past.
Does Well-Strung have groupies?
C.M.: It's fun to go back to Provincetown every summer, because we have these fans who have seen us nine times, and remember coming to our first-ever show.
E.B.: Like last year, this middle-school girl came to our show. Last year, this middle-school girl came to our show. Afterward, she said: "My sister loves One Direction, but you guys — you are my One Direction."
D.S.: But once, in London, there was a group that followed us back to our hotel and we had to be like, "Okay! Bye!"
You can catch Well-Strung on March 27, at 54 Below, 254 West 54th St. Their next album, POPssical, will be available on iTunes this fall.


This interview has been edited and condensed.