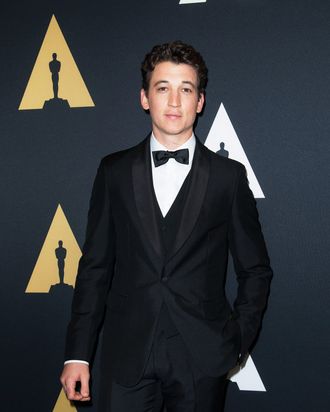 Miles Teller's perfectly attractive face.
Photo: Valerie Macon/Getty Images
In an interview with BuzzFeed, Miles Teller assesses himself. How is it that Teller avoided the pitfalls of simply being another handsome, bland hunk-of-the-month? Just as Bradley Cooper assessed his allegedly middling looks, Teller also credits his face for walking a line.
"I think my face helps with that, because I'm attractive enough, but I'm not too attractive to where, you know, I'm not accessible," he said, reportedly smiling. "I want to thank my parents for that, for my face."
You know what, we should all thank our parents for our faces, but also thank the Tellers for Miles's face. Everyone has been blessed.