The Rise of Mobile Fashion Is Making Everything Flatter
Why Karl Lagerfeld is the avatar of today's digital aesthetic.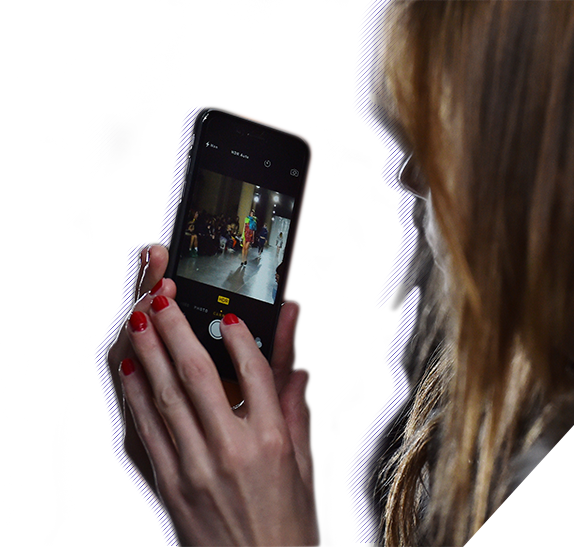 The Rise of Mobile Fashion Is Making Everything Flatter
Why Karl Lagerfeld is the avatar of today's digital aesthetic.
"Fabric is becoming like women's faces," Alber Elbaz, Lanvin's designer, said the other day in his Paris studio.
Taking the bait, I said, "Smooth or wrinkled?"
"Smooth," said Elbaz, and he slowly brushed his palm down an imaginary flat surface and frowned. "I'm totally into wrinkles. It's about the human touch." He meant not only textural effects, like the frayed black velvet trim on a black wool wrap skirt — one of the looks he will show tonight in a Moroccan-inspired collection — but also the luster of individuality. Elbaz is hardly the first designer to notice that the need to reproduce a lot of clothes, and to sell them over portable devices like tablets, has produced flat-looking fashion, with pricey embroidery often used to grab consumers' attention — call it mobile fashion. And I bet that when people see the Jeanne Lanvin exhibit at the Palais Galliera, which opens Friday evening and will feature about 100 styles from the modernist couturière, they may be even more inclined to the view that we live in poor times. Even at their most intricate, the details in her clothing never looked superfluous.
Then Elbaz mentioned attending a party recently in Paris with some folks from Apple. "When I saw the photos later, the Apple people looked so glamorous — more than the fashion people," he said, adding, "In technology, things are going on. They're conceiving things, pushing it."
Elbaz's conflicted feelings — between lamenting the flattening of fashion caused largely by technology and being drawn to its aura of success and innovation — are widely reflected in Paris as the fall collections get underway. I spoke to another designer yesterday who, when I asked him about the idea for his upcoming show, gave me a look that said, "Give me a break." Of course he had a starting point, but he was loath to suggest the change would be dramatic, or to bullshit me with a highfalutin theme. The fact is most creative designers, if they work for a big brand, have to strike a balance between being efficient and giving a mere taste of newness. Realistically, they don't have time to do more. They're pop-culture opportunists — snackers, like those of us in the audience feeding off their ideas and spreading them over social media. Karl Lagerfeld probably put it best when he explained, in the Times, why he doesn't keep archives. Even if he cared to rifle them for an idea, he doesn't have time. "There's no history," said fashion's most cultivated designer. "What I like is to do — not the fact that I did." In that sense, the guy really does resemble a shark, as Anthony Lane observed years ago. You suspect he'll die if he doesn't keep moving.
How much do younger designers want that kind of success? The judging for the second annual LVMH Prize was held yesterday (I'm on the jury this year), with a cocktail party in the evening, and that thought was on my mind as I met individually with most of the 26 finalists in their booths at LVMH headquarters. There was some strong talent. I especially liked Orley, by Alex Orley and his brother Matthew and sister-in-law Samantha, a New York label with a knitwear focus; Virgil Abloh's Milan-based Off-White, which crashes together streetwear and a hippie palette; Baja East, by Scott Studenberg and John Targon, with its funky beach élan; and Arthur Arbesser, an Austrian designer who has a nice hand with fabrics.
Arbesser, who is based in Milan, described his struggle to move up in the Italian fashion system, entrenched with big brands, as "a proper war." It was "fantastic" to make the final cut for the LVMH Prize, he said, and that when he received the news, "I thought, okay, they still notice that I'm here."
But I wondered how many of these designers want a place at the big table, and, indeed, whether there will be a place for them. Some will no doubt be content with a small business where they can be moderately creative and still have a life. Simon Porte Jacquemus, a self-taught designer from Provence, whose randomly assembled clothes were deliberately childlike (childhood is a favorite theme with this generation), said he already has 80 retail accounts. Still, he insisted, "I want to stay free," adding airily, "I love telling a story. I don't care about a skirt."
When I repeated his comment to Jean-Jacques Picart, a supporter of many designers over the years and an LVMH advisor, he rolled his eyes. "Yes, but he will be forced to care," said Picart. "It's just a kind of pretty speech he gave you."
Later, at the cocktail party, I ran into Thomas Tait, the London designer who is the prize's first recipient. I think Tait is one of the most promising and sophisticated designers of his generation. He has a wonderful sense of color — and cool. He used some of the €300,000 prize money to pay down debt, and he appreciated the manufacturing connections provided by LVMH. Still, as he acknowledged, he has struggled to find his footing. When I mentioned J.W. Anderson, whose rise from fledgling talent to star at Loewe is frequently cited by LVMH executives as an example of the opportunities for young designers, Tait said, "Yes, but you have to want it as much as Jonathan does."
That's very true. And it has probably always been the ingredient that has separated big-name designers from the clever dabblers. But I would add that LVMH should continue to help Tait — he is its first prizewinner, after all — and to show by that example the luxury giant is committed to even hardheaded talent. In the long run, it will be worth it.