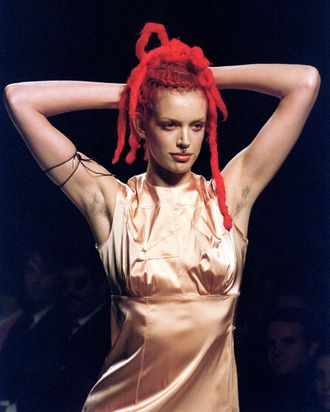 Sybil Buck on the Jean Paul Gauliter runway in 1995.
Photo: Eric Gaillard/Reuters
When Sibyl Buck first moved to Paris in 1991 to work as a model, she looked, as she describes it, pretty much the same as all the other girls: long brown hair, leggings, heels. But the look didn't suit her: She was a flannel-wearing, bass-playing skateboarder, and her hair had been dyed bright red for as long as she could remember. A year after moving to France, she decided to dye her hair again, asking the colorist for "brake-light red." Though her agents fretted she had ruined her career, the opposite turned out to be true. With flaming-red locks and septum and tongue piercings, she became an icon of grunge style — and a distinctive staple in shows by designers like Jean Paul Gaultier, Karl Lagerfeld, Alexander McQueen, and John Galliano. Her defiant, non-commerical look–which in later years would include bright-red dreadlocks–set her apart from the standard mold of '90s supermodels like Linda Evangelista and Christy Turlington, and made her a hit with Parisian designers keen to inject some edge into their collections (she remains a popular grunge icon on Tumblr and Pinterest). The Cut spoke with Buck — who left the fashion industry in 1997, and is now a musician in Topanga Canyon, California — about her relationship to grunge style and what it was like to see it co-opted on the runway–and eventually trickle down to the mass market.
What was your style like during your modeling years?
At that time I was an avid skateboarder and I was playing a lot of bass and wore plaid flannels and punk-rock T-shirts and a lot of messed-up jeans with holes in them and Doc Martens, and I had piercings. That style came out of '80s punk rock. In high school in Boston, all the girls wore black tights under their jean shorts with Doc Martens and dyed hair.
When you first started modeling, your hair was brown, right?
Yeah. I had red hair in high school, but when I started modeling, a local photographer told me, "You've gotta have natural hair." So I cut my hair real short and let it grow back out natural. When I moved to Paris, I had pretty long, brown natural hair, which I thought was what you needed.
I was in Paris for a year and I just got more and more depressed. Going there was an identity crisis, because I'd just been in college studying art and playing music with my friends and skateboarding, and I had a whole community. I didn't realize how valuable that was until I went to Paris, and I was just there by myself, trying to live out some crazy fantasy I'd had since I was 10. I actually did pretty well right off the bat, but it didn't carry the kind of joy I thought it would. I was doing pictures I didn't think were cool — it was a lot of commercial work. I got on the cover of Marie Claire pretty fast, and I was doing a lot of Elle, and I had a picture in American Vogue. Nobody would say it wasn't going well, but I was so depressed that I thought, I don't even care. I'm just gonna dye my hair red. It seems silly and superficial that something like dyeing my hair red would be the answer, but it was a big symbolic move. Being a teenager and then getting put in a business suit — it felt like being stuffed in a cotton ball and suffocated. Like my self-expression was just completely removed.
How did people react to your new hair?
My agencies all flipped out. [But] from then on, every time I walked in a fashion show, everybody knew who I was. The same week I dyed my hair red, Nina Ricci wanted me to do a campaign, and they wanted me to dye my hair brown again. They were going to pay me $20,000, which was the most money I'd ever been offered for anything, and it felt like a big test. My French agency was like, "Come on, of course you should do this." But everything in me was saying no. It had been such a big deal for me to dye it, and if I had just gone right back it would have been so defeating. So, I said no. Somehow that story got around, and that helped, so then when I'd go to shows Carla Bruni would be like, "Hi, Sibyl, I like your style."
Who were your favorite designers to work with?
[Jean Paul] Gaultier booked me my first season when I still had brown hair and a pierced tongue. I had a septum piercing, too, but I hid that from everybody when I was on castings. The first season I met Gaultier, there was a huge line [for the casting], from the ground floor all the way five floors up of a giant, spiraling Parisian stairwell. I was about to walk away, and I had a friend who said, "Sibyl, where are you going?" She said, "I think you should wait. I think this a good designer for you. And you could let him know you have a tongue piercing." So, I waited in line for like an hour and a half, and then I went up, and he's looking at my really commercial, stupid book, and I'm thinking, This is so dumb. With a tongue piercing, you can just put the ball on your lip and sort of roll it around. So I did that, and when he looked up, I pretended I didn't mean for him to see. He said, "What was that?" I showed him, and he booked me right there. And when I went out to walk he said, "You can show your tongue" — and the photo of me with my tongue out at that show became my first picture in American Vogue. We had a good bond. And Karl Lagerfeld would always book me for Chanel and Fendi, and even Chloé, which is kind of odd. And I did Christian Lacroix and Galliano and Givenchy and Alexander McQueen and all that stuff.
When designers first started to do "grunge" collections, what was your reaction?
I just thought, like, What is that? What are those super-long sweaters? We don't wear that. And the short shorts with boots that aren't Doc Martens, and striped beanies — the whole thing just didn't look like what I thought grunge was. I was listening to Nirvana and skateboarding — that was grunge. And I didn't even know it was grunge! Nineteen ninety was the first year that I heard the word grunge, and I had been dressing like that for years. What was called grunge on the street isn't what ended up on the runway, but I think that's how it always is. People are not going to go out and buy the street look, because the street look is always edgier. I think Marc [Jacobs's 1993 Perry Ellis collection] did a good job of translating that look into something that could be in the pages of Vogue. After the recession in the early '90s, people were alienated by the supermodel hourglass glamour image, of thigh-high black boots and glossy red lips and black eyeliner and contour blush and metallic eye shadow and big hair. It didn't look like the grunge I knew, but it was a good look, and I did like it.
Did you feel like designers would book you as a token grunge model?
I don't know. That Perry Ellis collection was done before the time that I was openly wearing my septum piercing and had red hair. By the time I was, people weren't really talking about grunge anymore. There was definitely a sense of the weird models, like Ève Salvail with the tattoo on her head, and Stella Tennant because she had a septum piercing — we were all sort of in the same crew. I guess there was sort of a token noncomformist thing. Karl was funny. One season he had these little Chanel earrings with the double C and he let me wear one in my septum piercing. I think he sort of delighted in that.
Why did you decide to leave the fashion industry?
When I first moved to Paris, my roommate had a friend who was 25 and still trying to be a model but was not very successful, and it seemed so depressing to be old and still trying to be a model, so I swore to myself that by the time I was 25 I wasn't going to be doing it anymore. And then I got to 25 and it was like, "Oh, I'm supposed to stop now" — but that was at the height of my career. I kept modeling for another year, but that was still ringing in the back of my head, and I had seen so many girls get kicked out of fashion, and then clinging and hanging on and on their knees doing any jobs they can. I just didn't want to be there. I wanted to leave fashion of my own accord. I think it's a good time to leave when things are good. You know, just "See you later," you walk out the door, and you never come back. It's funner that way.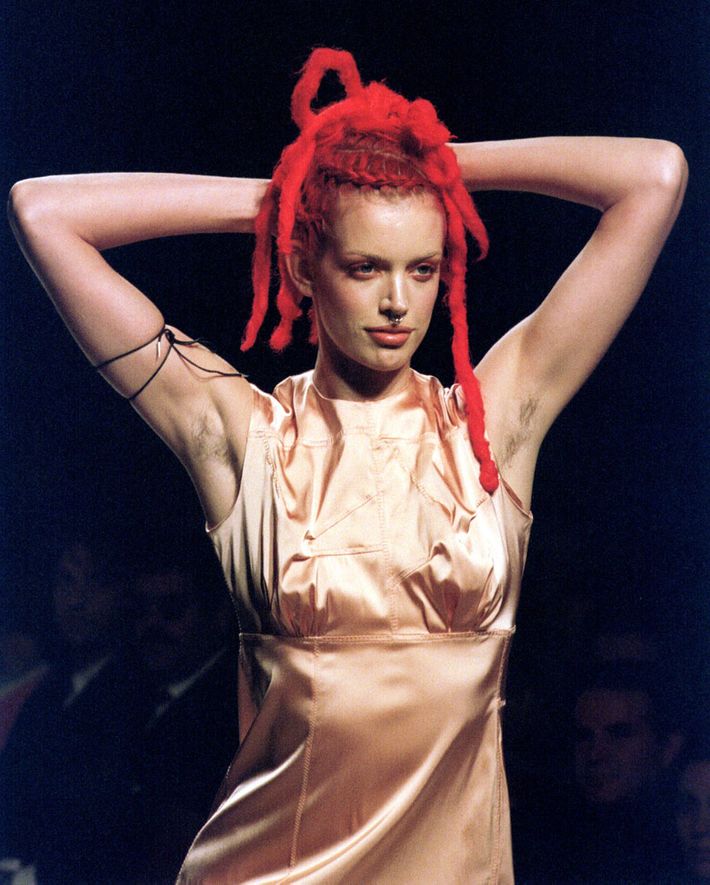 Sybil Buck
Modeling for Jean Paul Gaultier, one of her biggest supporters, in 1995.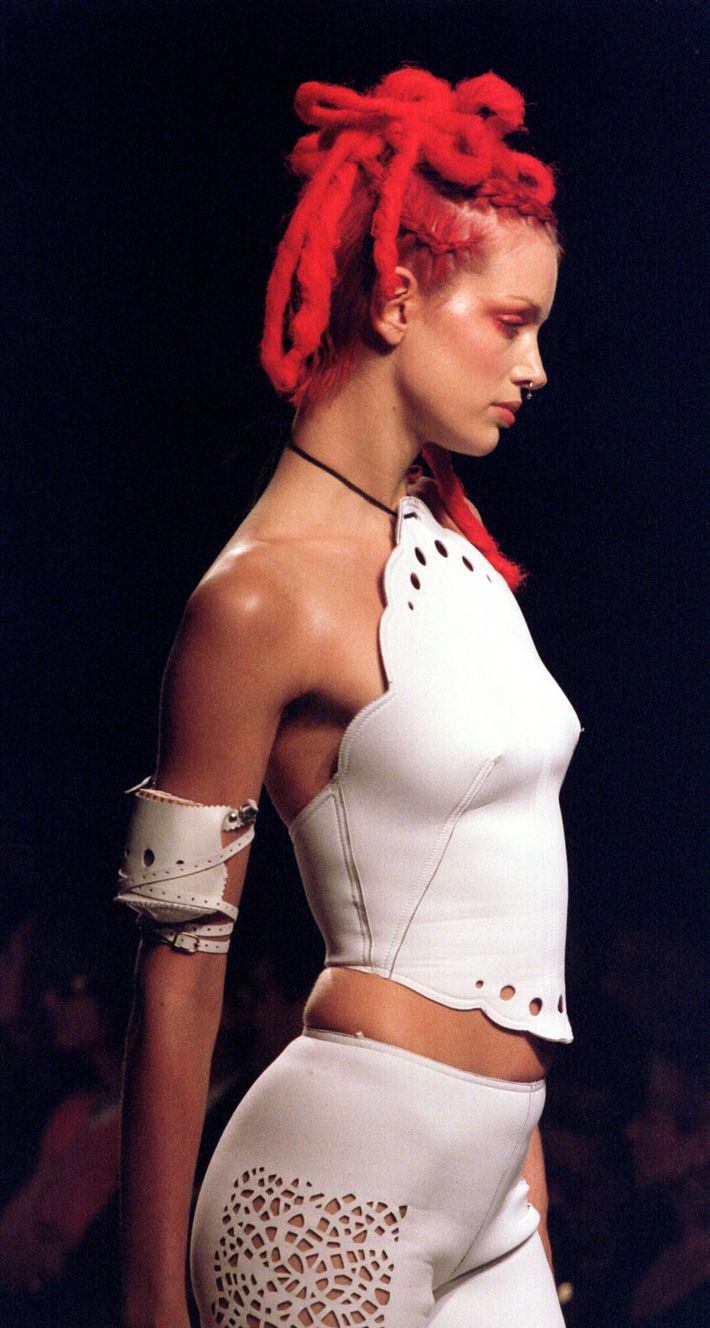 Sybil Buck
Sporting a dreadlocked look on the Gaultier runway in 1995.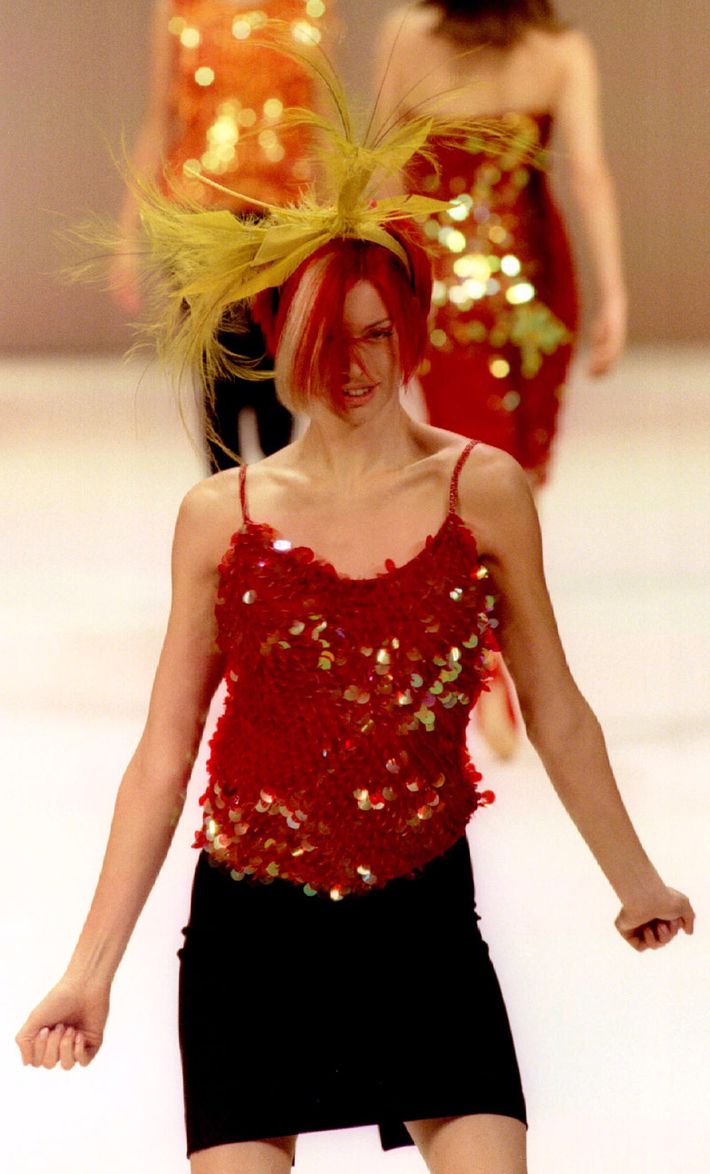 Sybil Buck
Modeling an elaborate headpiece for Katherine Hamnett in 1995.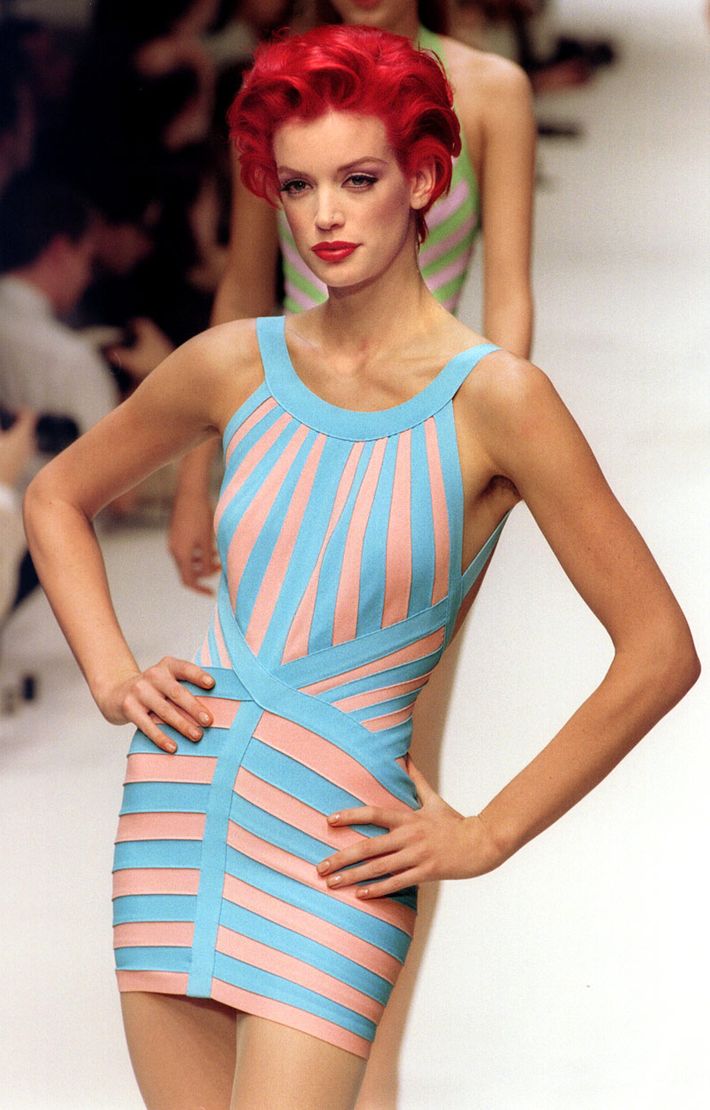 Sybil Buck
She sported a body-con bandage dress on the Hervé Léger runway in 1995.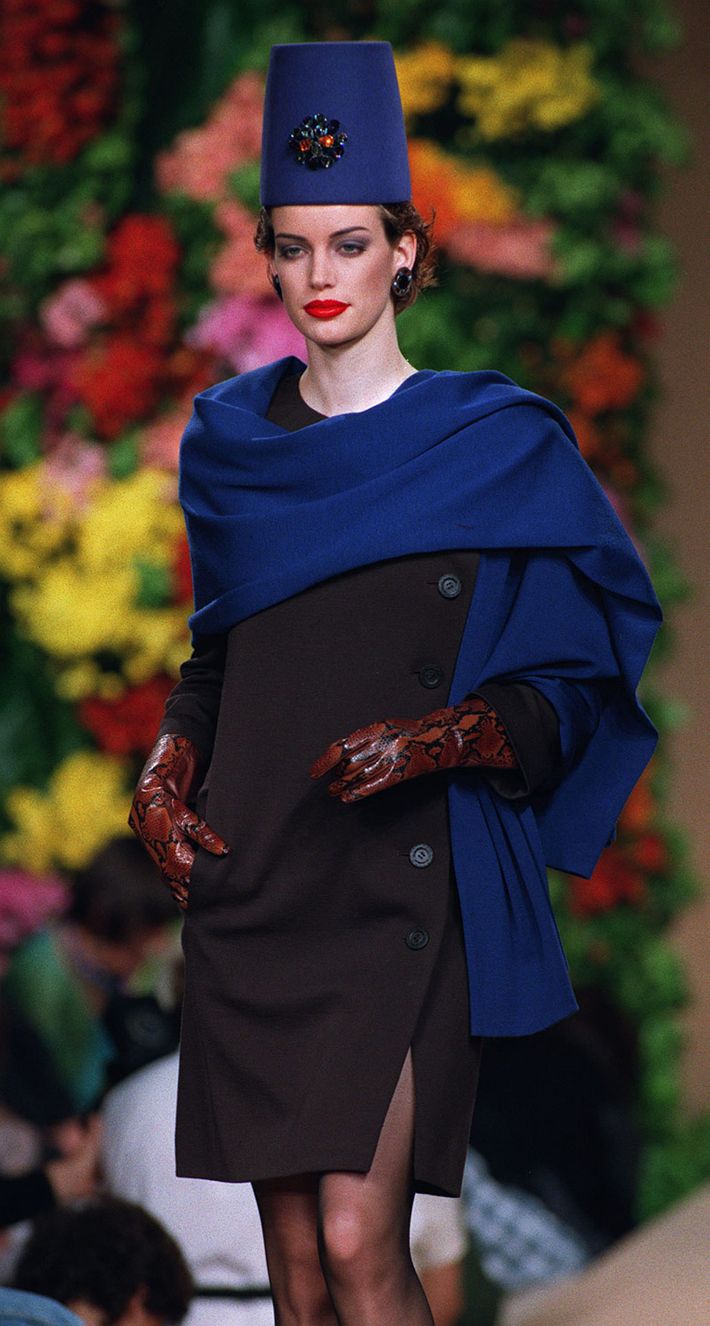 Sybil Buck
Uncharacteristically ladylike on Yves Saint Laurent's runway in 1996.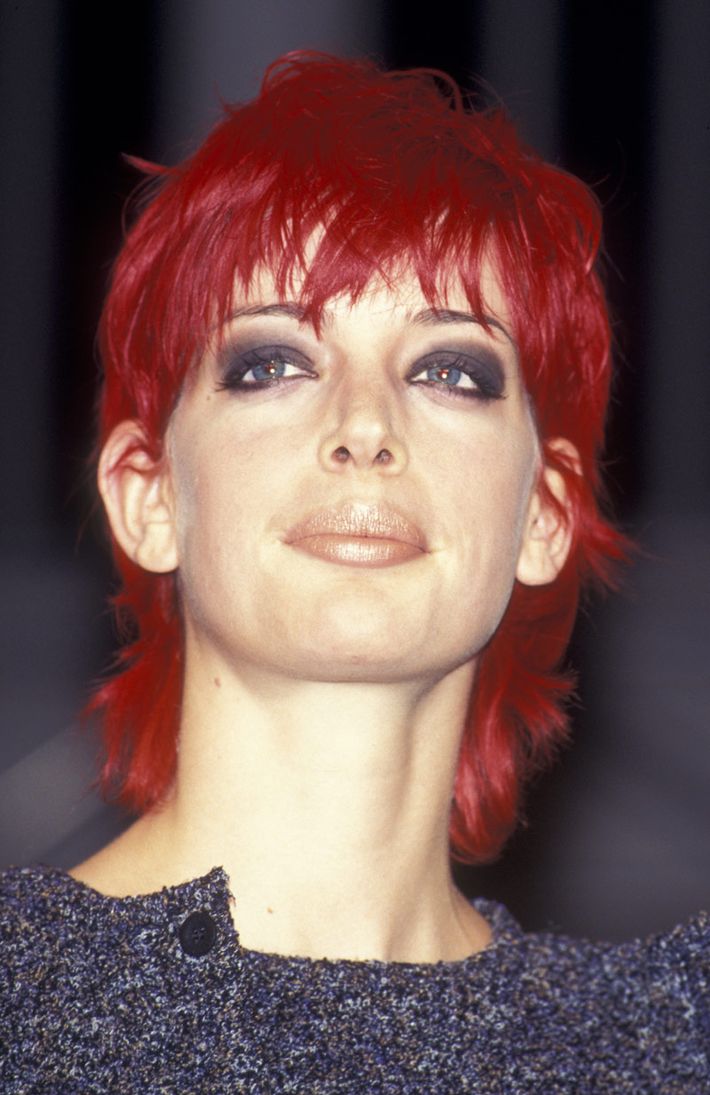 Sybil Buck
Showing off her "brake-light red" chop at the Joan Vass fashion show in 1995.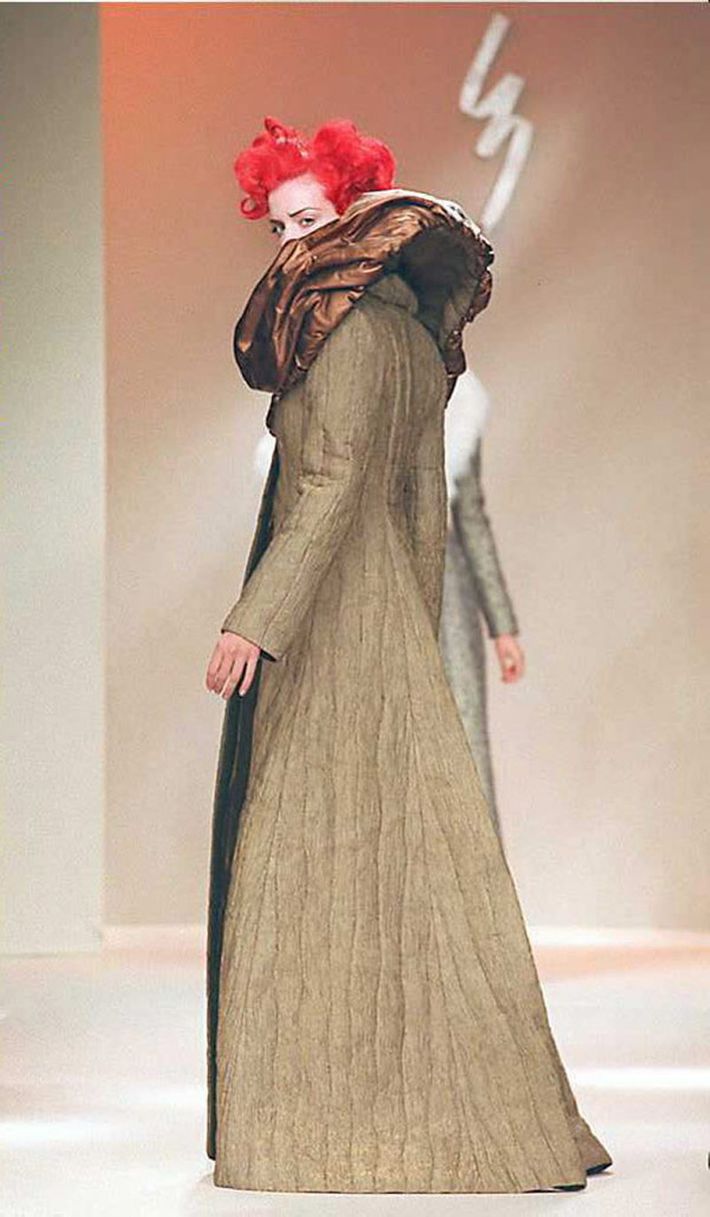 Sybil Buck
Wearing a dramatic Indian silk coat in Lecoanet Hemant's show in 1995.