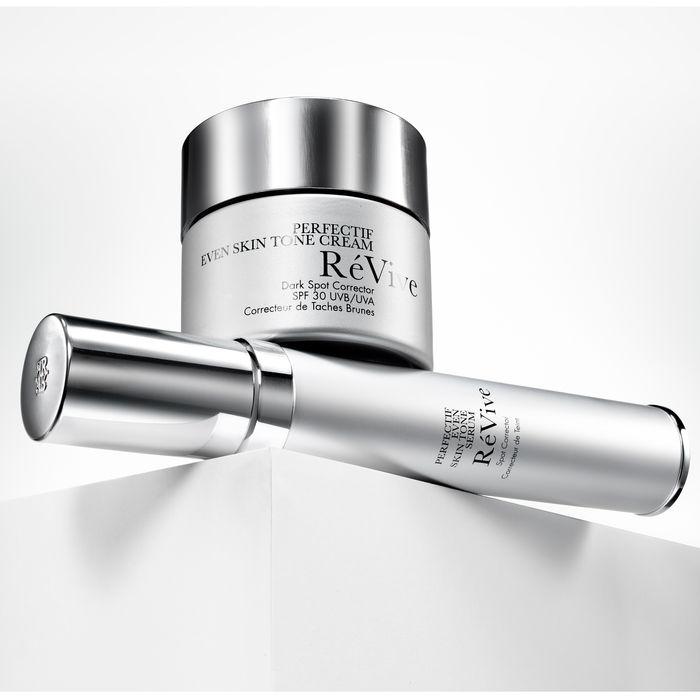 RéVive Even Tone System.
Photo: Courtesy of Perfectif
It takes at least two months for my post-acne scars to fade, and it might as well be an eternity. After a recent blemish attack, I tested a new remedy: RéVive's dark-spot-eliminating system, a very expensive moisturizer and serum that promise to reduce the duration of post-acne scars without the use of hydroquinone (a proven dark-spot eliminator with a shaky, possibly carcinogenic background).
I noticed results immediately. For one, there are tiny mica particles in both the serum and moisturizer that instantly illuminate the skin, performing some kind of skin-care optical illusion that drew attention away from my healing dark spots. The moisturizer, which is pink and has a similar texture to a heavy mousse, also added a visible dewiness to my skin that would make you believe I subsist only on generous amounts of water, kale, and salmon.
Even without the help of the mica brighteners, I noticed my acne scars were fading in earnest around the three-week mark, and by week five, they were completely gone. RéVive attributes the speedy recovery to proteins in both the serum and moisturizer that hasten cell turnover and peptides that inhibit melanin production. Have you ever taken a photo where the light captured your skin in the best possible way? Perfectif feels like that, every day.
RéVive's Perfectif Even Tone Serum, $325, and RéVive's Perfectif Even Tone Cream, $275, at Bergdorf Goodman.