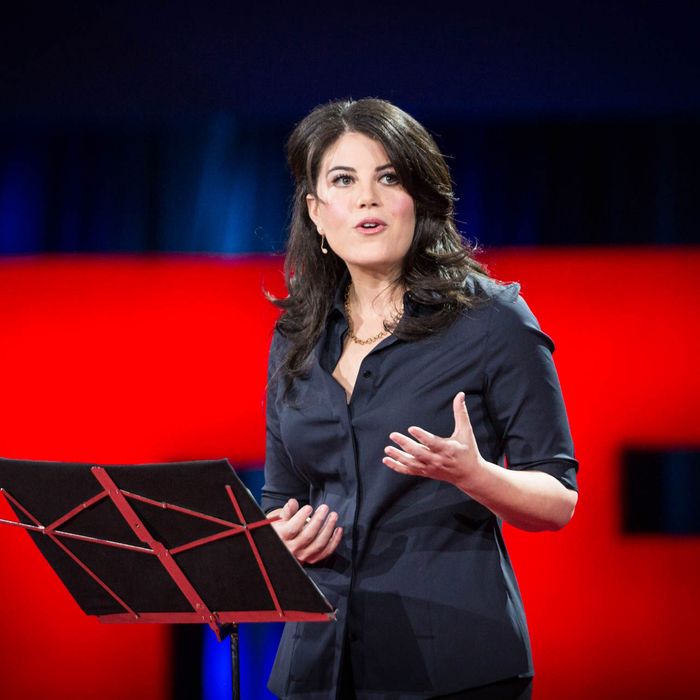 Lewinsky.
Photo: James Duncan Davidson/TED
In her Thursday TED Talk — "The Price of Shame" — Monica Lewinsky addressed cyberbullying and the necessity of taking back control of her narrative.
"Like me, at 22, a few of you may also have taken wrong turns by falling in love with the wrong person. Maybe even your boss. Unlike me, though, your boss probably wasn't the president of the United States of America," she said. Lewinsky detailed the pain of suddenly finding herself a publicly humiliated figure, which led to a decade of public silence. She reemerged in the public eye last May, penning an essay for Vanity Fair about the aftermath of her affair with Bill Clinton.
Lewinsky called herself "patient zero" of internet-shaming: Her story was leaked to the website Drudge Report when Newsweek delayed its publication, leading the New York Times to suggest that it was first time a story of such consequence broke online.
Lewinsky recalled being branded a tramp, a slut, a whore, and a bimbo; she became the butt of jokes on every late-night talk show. "Now I admit I made mistakes — especially wearing that beret — but the attention and judgment that I received — not the story, but that I personally received — was unprecedented," she said.
She acknowledged how normalized online bullying and shaming has become, while also pointing out the continued human consequences. (Like the 2010 death of Tyler Clementi, a gay Rutgers student who committed suicide after being cyberbullied.)
Before an audience of 1,400, Lewinsky called for an end to public shame fueled by the internet, calling it "a blood sport [that] has to stop."