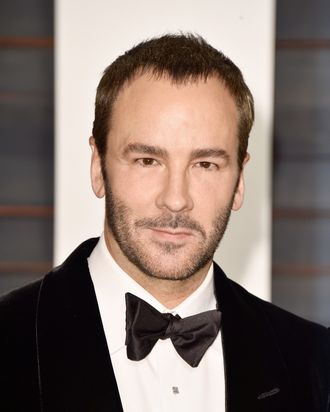 Tom Ford.
Photo: Pascal Le Segretain/Getty Images
Tom Ford will not stand for gender inequality, at least when it comes to objectifying really, really ridiculously good-looking people of both sexes in his ad campaigns. "I've been criticized for objectifying women," the designer told The Guardian. "But I'm an equal opportunity objectifier — I'm just as happy to objectify men. The thing is, you can't show male nudity in our culture in the way you can show female nudity. We're very comfortable as a culture exploiting women, but not men. But I don't think of it as exploitation [either way]."
The above probably doesn't come as news to … well, anyone who has ever seen a Tom Ford ad, where revealing poses on the part of men and women alike — including some cameos by the designer himself — are de rigueur. That said, Ford told the paper that his ultimate goal is empowerment. "My women are not sitting there waiting for someone, they're taking charge. Doesn't matter whether they're naked — they're powerful, they're smart, and you're not going to get them if they don't want you." Judge for yourself with some highlights plucked from his archive, below.