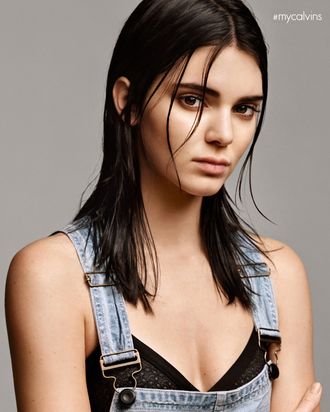 Kendall Jenner.
Photo: Alasdair McLellan/Calvin Klein
Kendall Jenner has been one of the central figures in the #mycalvins social-media campaign, and today Calvin Klein announced that she's starring in ads for its #mycalvins Denim Series. The limited-edition collection will initially be exclusive to Opening Ceremony and will debut April 15, with an L.A. event heralding the launch. It will then be available on Calvin Klein's website beginning May 15. 
According to a statement by global creative director Kevin Carrigan, the campaign images were inspired by the lo-fi feel of the #mycalvins images — some in low-contrast black-and-white and featuring Jenner alongside male model Simon Nessman — and were shot by Alasdair McLellan and styled by Melanie Ward.
"Modeling for Calvin Klein Jeans is really a dream come true," Jenner said in a statement. "I've grown up wearing the brand and seeing the iconic advertising in magazines and on billboards featuring some of the world's top supermodels. To now be a part of that legacy is truly an honor."