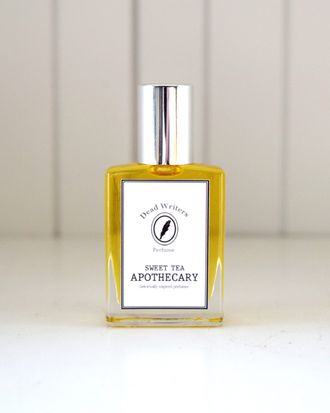 Dead Writers Perfume
Photo: courtesy photo
I've always loved the smell of old books — and now, strangely enough, there's a new perfume that will help me smell them all the time. J.T. Siems, the founder of Sweet Tea Apothecary, has developed a new scent, Dead Writers, inspired by her many trips to the library. It's a rich and smoky unisex fragrance.
Part of a fragrance line inspired by historic figures and places (which includes a Marie Antoinette and Henry VIII scent), Dead Writers is an oil perfume that smells old but not stale — the most prominent note, clove, balances out the smooth notes of vanilla and tobacco. While I wore Dead Writers throughout the day, I couldn't stop sniffing the pulse point on my wrist where I'd sprayed the scent. And, like a really good book, I just couldn't put Dead Writers down.
Dead Writers Perfume, $80 at Sweet Tea Apothecary.