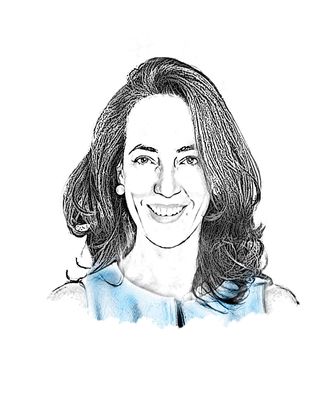 Pamela Golbin, the chief curator of fashion and textiles at Les Arts Décoratifs in Paris and a member of the It's Vintage advisory panel, puts the collection into its historical context for the Cut.
Paloma Picasso was a major inspiration for the collection and she often went to the marché aux puces — the flea market. A lot of those pieces that she bought were authentic pieces from the '30s and '40s. This was the first generation of the baby-boom era getting interested in the [World War II] years. The problem was that the people who were Yves Saint Laurent's clients were not of this age, they were much older — women who had been through the war years, along with all of the journalists who were present at that time. So it was the first time that they were confronted with those years and it was unacceptable to them. It was emotionally and, I think, visually a shock for them just because of what it represented. Obviously, Saint Laurent didn't do it for that shock value — he was really interested, I think, not only in the colors and the concept behind those clothes. There was a lot of deprivation during the war period. There was a set amount of meters of fabric you could use to make a dress — and you had to get everything with coupons, and even with coupons it wasn't really possible to get everything you wanted.
It was a complicated moment in history, but when someone like YSL was inspired by it, it wasn't that historical aspect of it, because he didn't live through it — he was in North Africa at the time. So it wasn't tied to his personal history. He did not go through those deprivations, and neither did his family, but the women who did [attend] that show did! So it was a very different point of view that they had, and the one that he proposed.
Besides that, there was what we would call today the styling of the collection — with the makeup [red lips and nails] that was considered prostitute makeup, the kind of shoes that were worn, the tights — it was considered extremely and overtly sexual, which did not put his clientele at ease, either. So there was the fact that it had a cultural undertone of a time period that was still sensitive and then the fact that it inscribed the show within a whole new concept of what beauty was and what women were, what sexuality was.
One thing that is difficult to understand in [an American context] is ready-to-wear. Ready-to-wear was not something that was prevalent in France. It only had arrived after the Second World War, so it was a very new concept. There were very few shops, there were no boutiques — it was a very nascent industry. In 1970 there was an event called Créateurs Industriels, which was headed by Didier Grumbach, who just retired as the head of the Chambre Syndicale here in Paris, and he brought together young designers of ready-to-wear who were looking for industry manufacturers who could manufacture their clothes. That's how RTW was really born in France, in 1971, concurrent to this collection.
So it brought together a lot of different things, and it's no accident that it had such a devastating effect, because it was a very negative collection. It was probably the first time in his career that he had had such negative feedback. [The criticism he received at Dior] was much more moderate. He had the filter of the house of Dior, and Dior was a very important house in France because it made up 50 percent of French exports worldwide for the fashion industry. So [this] wasn't something that was so straightforward when it came to that feedback. This was really about him and his work — there was no filter and that's what was difficult.
You had this new generation of ready-to-wear designers, and so it was also about finding his place. Where he was going to be? Was he going to be with the old generation of haute-couture designers, or was he going to be with the young generation? He also had to figure out where he was going, and so I think that the fact that the collection was quite a bomb, when you look back at it now, we realize the importance of that collection — but straight out of that experience it was difficult. But he was really able to come back from it, with collections later during the decade, like his Ballets Russes collection in 1976, and most important, his perfume Opium, which really set the stage for the second part of the 1970s.