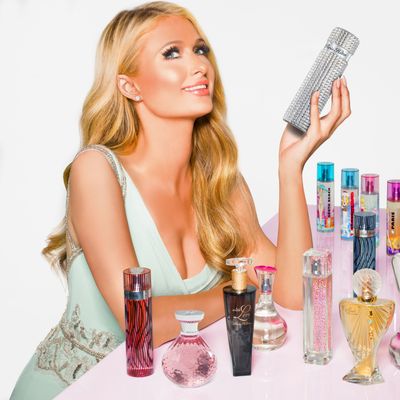 Paris Hilton by Paris Hilton.
Photo: courtesy photo
Yesterday morning, Paris Hilton received a gift: a framed photo of herself surrounded by the 18 fragrances named after her, designed by her. She said she loves it and she will hang it in her new New York apartment.
The last of these 18 fragrances, released today, is called Paris Hilton Limited Anniversary Edition for Women, which is a more concentrated version of her first fragrance, Paris Hilton for Women. Paris Hilton, successful entrepreneur of Paris Hilton products, knows that her business is simply allocating different concentrations of Paris Hilton.
For Paris Hilton's thoughts on entrepreneurship, makeup, and why she is not worried about the demise of Juicy Couture, read on.
The names of your fragrances always seem so well-suited to you. Do you have any favorite nail-polish or makeup-shade names?
NARS has this really dope blush called Orgasm, and when you go to the store and ask for it, it's so uncomfortable. They're like, "What?" I'm like, "Can I please have an orgasm?" and they're like, "What?" I'm like, "The blush …" They're like, "Oh."
What's your least favorite part of wearing makeup?
The worst part is eyelashes that are heavy. Sometimes makeup artists will put like three pairs on me for photo shoots, and they're so heavy. By the end of the day, I just cannot wait to rip them off, and then I look at it, and there are like 50 of my real eyelashes on it. I'm like, "Dope, thanks, I just ripped off half my eyelashes."
What are some essential qualities for being a successful female entrepreneur?
Definitely having a work ethic, wanting to work hard, be confident, believe in yourself, not listening to what other people say, just do your own thing, and be kind to people. Have a great personality, and be cool and fun.
Are there any female entrepreneurs or businesswomen whom you look up to?
Yeah, I really love Oprah, I think she has an amazing brand. I love Victoria Beckham, I've loved her since the Spice Girls, I've always thought she was so beautiful, and now she has this amazing high-fashion brand and a beautiful family. I really always have looked up to her and admired her a lot.
Is she your favorite Spice Girl?
Yeah.
Have you ever changed your favorite Spice Girl?
Yeah.
Okay, tell me the transition.
I loved Baby Spice first, because she's blonde and cute and like just reminded me of like a big sister. And then I loved Posh because she was so sexy and hot and just seemed like really cool. And that was it. The rest are cute, too, but those were my two favorites always.
Do you feel like you have a theme song? Like if you walked into a room and a song always had to play, what would it be?
"Stars Are Blind." Every time I go to like clubs or parties, they always play it when I'm walking in the room, and I love that.
Will you ever get bored of it, do you think?
No. I love it. It brings so many memories, and it's such a timeless song.
When you're 75, is "Stars Are Blind" gonna play?
Yeah.
Do you think about what you'll be like when you're that age?
I'm gonna be the coolest grandmother in the world. I just know that I'm gonna be still a lot of fun. I feel like if you want to be young at heart, you'll always be that way. Like I know some people who are like 90 years old who act like they're 25 because they're just young at heart. I don't know, it's just how some people are. So I feel like that's how I'll be, and I'll just be fun and like the cool grandma.
What did you think when you heard that Juicy Couture was shutting down stores in the U.S.?
I was sad because I love that brand. I grew up wearing it. I still wear it, even though everyone is like, "Juicy is over." I still love it. They're the most comfortable tracksuits, cute colors.
Are you concerned that you might run out?
I have a lifetime supply. I have like a whole closet that's only sweatsuits, and like 80 percent of them are Juicy.
Okay. So this news doesn't affect you.
I'm well stocked until the end of time.
Good.
Now I'm like obsessed with Wildfox, so that's like my new Juicy Couture. It's sick.
What are your favorite things by them?
Everything. I just love the sweatshirts, I love the T-shirts, I love just the cute unicorn pictures and seahorses and mermaids and funny sayings. It's just very clever and modern and cool and dope. I love it.
Do you have a favorite mystical creature?
Unicorns. I'm obsessed; I want one. I always have loved them since I was a little girl. I would love one as a pet. I have every other animal. That would be fun.
I've noticed that you like to post short videos of your pets. Do you really like watching YouTube animal videos?
Yeah. I love like any animal videos that are on YouTube that are like cute or funny, I love all that. There's this one [with] this kangaroo, and it's doing an interview, and it just starts punching and beating up the trainer that's with it, and it's just like the funniest thing I've ever seen. And then there's like cute kitten ones where there's like baby cats all together and like doing cute stuff. But the funnier ones I like better. Some of them I've seen like a hundred times, and they're always funny.
Which one of your animals do think could have a YouTube career?
My newest one, Princess Paris Jr. Because she's just — she's like this big, she's such a character. She's like so strong, the way she is with all the other dogs, she like will try to beat them up and she's just like a really tough little fluffball. Like a really funny personality. She's a boss.
This interview has been edited and condensed. Paris Hilton Limited Anniversary Edition for Women is available here.