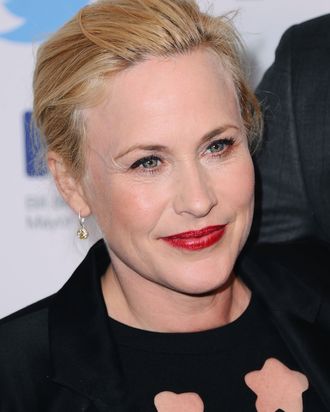 Patricia Arquette.
Photo: Stephen Lovekin/Getty Images
Yesterday, U.N. Women launched its Planet 50-50 by 2030 initiative, issuing a call to arms to make international gender equality a reality within the next 15 years. The New York event included speeches by Hillary Clinton, Bill de Blasio, Melinda Gates, Ban Ki-moon, and Patricia Arquette, who took the opportunity to elaborate on her Oscars speech, in which she called for equal pay for women. Some critics found that speech blinkered — especially when Arquette was asked to expand on her remarks backstage after the speech, and added: "And it's time for all the women in America and all the men that love women, and all the gay people, and all the people of color that we've all fought for to fight for us now." (Writing for Slate, Amanda Marcotte condemned the speech: "Arquette's political grandstanding played into every ugly stereotype about 'feminism' being about little more than some privileged white women trying to become more privileged," she wrote. "Her comments were bad for the cause of equal pay and for feminism.")
This time around, Arquette offered a bit more insight into her own background, and acknowledged some previous blind spots.
People have asked me why I'm doing this, and it's true, today I'm blessed, having some material success, for which I'm extremely grateful. But I have other truths, too. If I were to tell you as a child, there were times where I lived below the poverty line, literally not having shoes to wear that fit me, that would also be true. If I told you that I was a single mother at 20, and lived with my baby in a converted garage, and that I would worry about my baby's nutrition while nursing, because I could only afford to eat macaroni and cheese mixed with water for a week so I could afford diapers, that would also be true.

…

So let's be honest: We have in place fair-pay laws that are not ensuring fair pay to women. The effect of the gender gap is most oppressive for women of color. In the United States, Latina women working full-time are taking home 56 cents to every dollar earned by her male, white co-workers. In California, which is the seventh-largest economy in the whole world, that number dropped last year to 44 cents on the dollar. African-American women earn just 64 cents. White American women may now average 78 cents on the dollar.

Countless lesbian women and women in the transgender community also suffer wage penalties that hurt them and their families. And the women in our transgender community are suffering even more; most are not even able to get a job.

"This is about supporting families, and getting women what they have already earned for their own hard work," Arquette concluded. "Hold your lawmakers accountable … We are a movement, and we are making changes for our daughters. We matter."