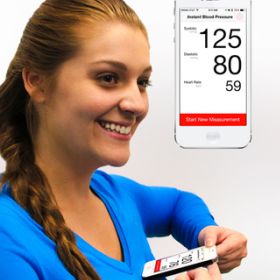 As Science of Us has previously noted, while mobile health apps could potentially bring users a lot of important benefits, at the moment, the mHealth market, as it's called, is a bit of a disorganized, under-regulated mess. An app called Instant Blood Pressure — Monitor Blood Pressure Using Only Your Phone is a case in point. Dr. Iltifat Husain, assistant professor of emergency medicine and director of the mobile app curriculum at the Wake Forest University School of Medicine, notes on his site iMedicalApps that the app is quite popular — and thinks that's potentially very bad news.
Husain argues that the app's makers haven't proven that it provides reliable numbers, and that the sheer number of downloads — as well as some of the comments users have left — suggest that people are using it instead of traditional blood-pressure-measuring techniques. Given how important it is for blood-pressure readings to be accurate, it's easy to see why this could be dangerous.
Husain argues that the developers haven't been entirely forthcoming:
Initially when the app was released, it didn't even contain a disclaimer — only after I featured Instant Blood Pressure on iMedicalApps, and subsequently Wired Magazine picked up on the story, did the developers even bother to put a disclaimer within the app. The developers were also initially implying that Johns Hopkins was supporting their claims in their App description, but were forced to remove the institutions name after Johns Hopkins found out their name was being used in an inappropriate manner.

The developers initially asked me not to publicize the app at all, and refused to show data or any type of study that backed up their claims, stating they were creating proprietary algorithms. They kept mentioning they would "soon release data" that showed how the app worked, but more than eight months later they still haven't released any studies or proof showing how the app works.
Here's how the app's disclosure currently reads on the iTunes website:
Instant Blood Pressure lets you measure your blood pressure using only your iPhone - no cuff required. It is not a medical device. It uses a patent-pending process created by a team of forward-thinking biomedical engineers and software developers. Measurements take less than 40 seconds and produce a systolic, diastolic, and heart rate measurement.

At this time, results may vary for different users and some users may experience inaccurate measurements. Please bear with us as we improve this exciting new technology. 
So this app that many people are apparently using to measure their blood pressure "is not a medical device" and "some users may experience inaccurate measurements." And that's the developers talking! You can see why this makes Husain nervous. It's slightly scary to imagine friends or relatives, particularly older ones with less experience navigating the online world and its myriad marketing claims, relying on an app like this to help keep themselves healthy.