The Power of Developing Technique Over Time
<span>Azzedine Ala&iuml;a shows no signs of slowing down.</span>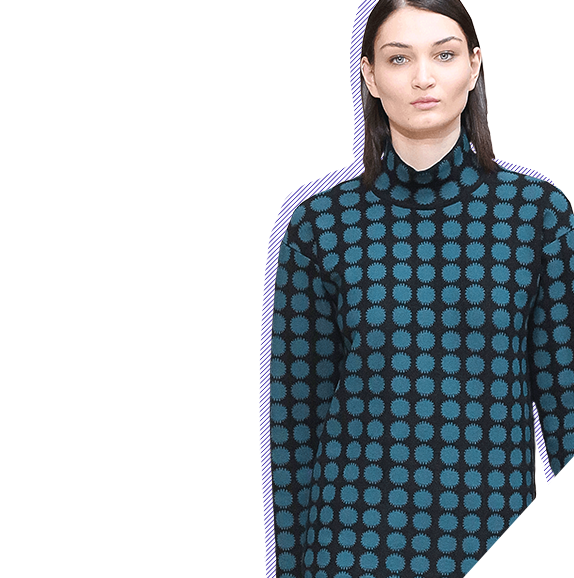 The Power of Developing Technique Over Time
Azzedine Alaïa shows no signs of slowing down.
Azzedine Alaïa hasn't done a full-scale fashion show in years — and, he says, he may not ever again. Instead, he holds mini-shows for buyers in his Paris headquarters where, conveniently, he also lives. The couturier is in the enviable position of having a growing business (the showroom was packed on the day I visited) and doing what he likes, whether it's cutting a pattern himself for a new jacket or hanging out with friends in his kitchen. Lady Gaga, who wore his clothes to the Oscars, came by one evening during Fashion Week. In the coming weeks, he'll be traveling with his friend Carla Sozzani to China.
His fall collection shows the advantage of working on a technique over time. Take Alaïa's knitted dresses and separates, which now come in grid patterns of dots and half-circles in teal or fuchsia on black. He has worked with the same Italian knitwear-maker for more than 35 years, and together they have finessed such structural problems as gathering in a skirt or a detail like fringe. For fall, that fringe is imagined as row upon row of matchbook-size flaps on a dress and capelet. Even at close range, you have to remind yourself that these are knitted, not woven, garments. Sometimes, the pattern of a leather skirt or jacket duplicates that of a knitted piece, so that you're fooled again.
But, really, there's no trickery with Alaïa, no fudging with borrowed bits from the past. How many times since the 1980s has the man done a black leather jacket? And yet, each time the style looks incredibly contemporary. This season it's a humble, mannish car coat with the feminine touch of two high buttonholes and a hem of thick fringe. He does a bolero version, too. And though his designs are hardly obvious — he puts so much work into the patterns and choice of material — I'm often struck by the thought: Why hasn't someone done this shape before?