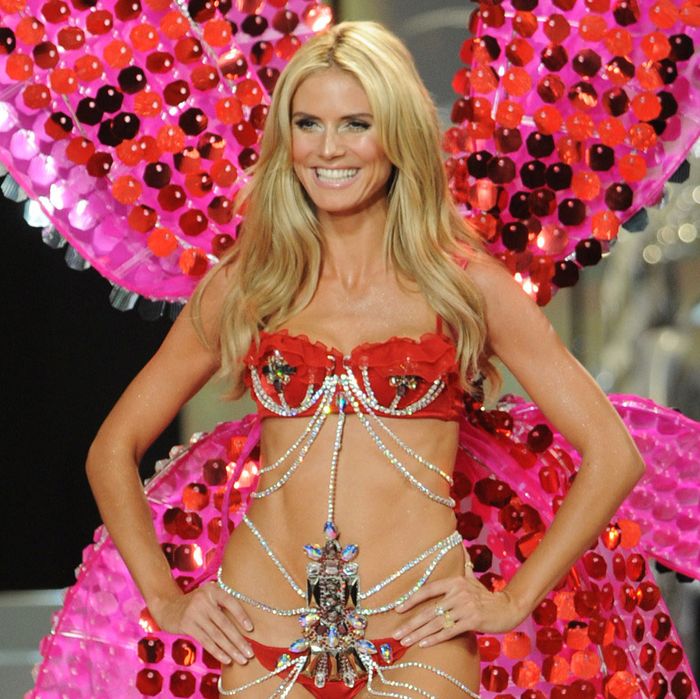 Honorary doctorate in underwear-wearing Heidi Klum.
Photo: Splash News/Corbis
The wearing of undergarments might seem tricky, inaccessible, even unachievable. This all may be so. But Heidi Klum is a specialist with 15 years of professional experience in wearing underwear and she would like to share her knowledge.

In an interview with Marie Claire about working in this obscure realm, Klum promises that she has "test-driven pretty much every style on the market." She explains, "I probably have more than 100 bras in my wardrobe right now. I always buy three pairs of panties for each so that I can wear the set more often. There was a time when I had maybe double that." The average dilettante need not have so many, of course. But Klum is an industry expert, known for rigorous, thorough knowledge of the matter.
Klum divulges that wearing underwear requires experimentation and research. "The key to feeling confident if you're just wearing your lingerie is simply to find the style of lingerie that you feel confident in," says Klum. "Experiment with different bras to find a style that you know you look good in." She can't achieve knowledge for you. If she just gave you the answer, you wouldn't really learn. This is an education. You can lead a horse to water, but you can't make her drink, and you certainly can't choose her lingerie for her.