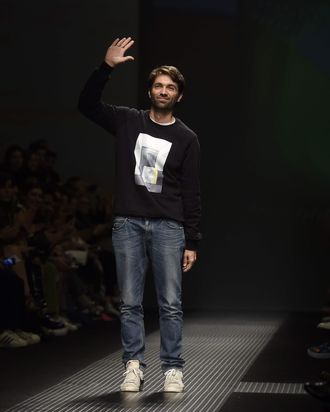 Massimo Giorgetti.
Photo: Olivier Morin/AFP/Getty Images
Emilio Pucci's top spot didn't stay vacant for long. After yesterday's announcement that the  former occupant of that spot, Peter Dundas, was taking over at Roberto Cavalli, the The Independent reports that MSGM designer Massimo Giorgetti will be Pucci's next creative director. Giorgetti, long rumored to be the leading candidate for the job, seems like a good fit for the print-happy house — at MSGM, one of Milan's few young-designer labels (along with Arthur Arbesser and Au Jour Le Jour), he's pushed the boundaries of print and color since launching in 2009.
Giorgetti — who began his career outside fashion, as a DJ and an accountant — will continue to design MSGM as well as Pucci. He will show his first Pucci collection at Milan Fashion Week this coming September.