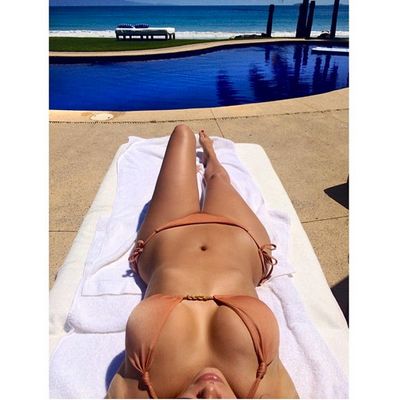 Photo: Kim Kardashian/Instagram
Where are you the funniest, smartest, most Facetuned version of yourself? This week, the Cut explores the complexities, vanities, and pitfalls of self-presentation online
By design, it's nearly impossible to look through Amber Rose's Instagram archive without uttering at least one impressed "damn." The mysteriously famous Rose is a master of the thirst trap — a provocative image intended to elicit compliments, high praise, or words of obsessive lust. While celebs like Rose, Rihanna, and Kim Kardashian have recently refined and elevated the art of the thirst-trap photo, the concept has been out there in the internet ether for some time. In 2011, Urban Dictionary defined the thirst trap as "any statement used to intentionally create attention or 'thirst,'" and with the rise of visual social-media networks, the movement has reached new heights in the past year or so.
What qualifies as a thirst trap? UD points to "Dick prints, boxer dick prints, in the shower selfie, dick prints, mirror dick print. Dick prints are the key." But male genitalia is just the beginning — common thirst-trap genres include disembodied torsos (cleavage, muscular abdominals, perky pecs, particularly striking backs), beautiful faces, or even just a person languidly rolling around in an artfully mussed-up bed. The images — be it the waistband of some dude's boxers or a shot-from-above breast photo — excite and satisfy both the male and female gaze, serving as an ice-cold Gatorade taunting the most dehydrated followers, a snare (occasionally posted on #thirsttrapthursdays) set by a hunter. And in turn, followers respond by commenting with varying displays of desperation: for example, "Model status," "Wifey," "Marry me," "Notice me," "Follow me," all the way to the graphically pleading "Sit on my face."
There are a few ways to execute a thirst trap.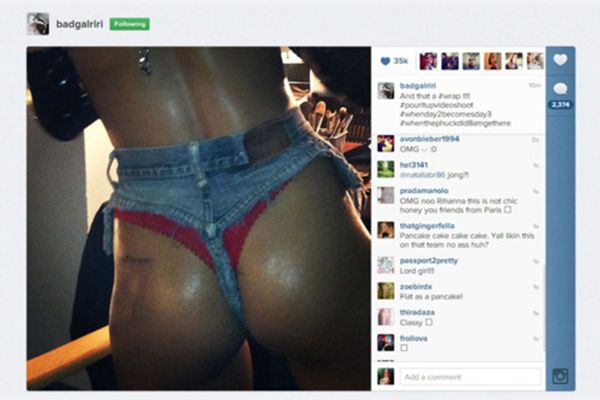 1. The Unapologetic Thirst Trap: One needn't look further than Rihanna and her casual 2013 'gramming of her ass in a denim thong for the platonic ideal of the unapologetic thirst trap. This is the picture that shamelessly demands a response. You know what the photo is for, and the poster of said photo openly admits its purpose either by tagging it #thirsttrap or by making it so overtly sexual there's no room for doubt — it's as if they are giving their followers gallons of saltwater to chug. They welcome the thirstiest comments from the thirstiest of all the thirsty people. Amber Rose is a good example, as are regularly topless Chelsea Handler and Miley Cyrus. But perhaps the best exemplar of the genre is Cash Out, the rapper whose dick outline also helped inspire the now defunct #eggplantfriday movement.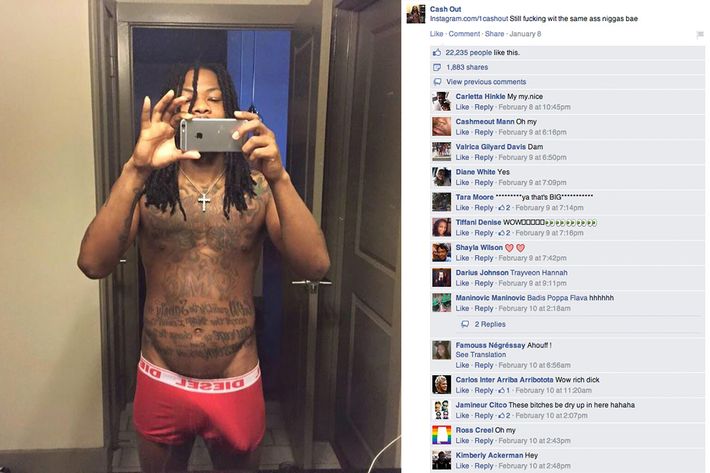 2. The Disingenuous Thirst Trap: This photo is a sneaky thirst trap, offered up with the slightest of pretexts, in order to convey that the poster isn't fishing for compliments but will still welcome them when they occur. For example, posting a  photo of a yummy post-workout smoothie that somehow contains a perfect shot of the 'grammer's breasts, pecs, abs, and a callout to #fitlife; or a photo of "my new haircut" that is really an opportunity to get a good belfie in there. When it's done poorly, it is painfully obvious: e.g., When Miss Nikki Baby from Love and Hip Hop posts a photo with the caption "laid up" to indicate she is sick or in need of rest, but also wants to show off her nipple rings through a sheer shirt. Or when she posts "I need a vacation soon… I'm thinking Turks & Caicos" with this image:
3. The Denial Thirst Trap: This is the most prevalent genre, because it requires the least commitment. This person wants to seem totally unaware of the thirst they are inciting (spoiler alert: They are very aware of the thirst they are inciting), and employs a pretext so ridiculously unrelated as to avoid accusations of setting a thirst trap. For example, when someone takes a shirtless selfie from their bed, casually showing off their ripped abs or what have you, but captions the show-off-y image with the words of Kierkegaard or Gandhi. Male models and CrossFit enthusiasts are excellent at this, as are teenagers. (The image below was accompanied by this caption: "For beautiful eyes, look for the good in others; for beautiful lips, speak only words of kindness; and for poise, walk with the knowledge that you are never alone. But never forget [enter emoji heart.]")
One response, represented in this 2014 rant by the Betches, is that the thirst trap is a sad, desperate play for validation: "baiting internet creepers into telling you you're pretty should never be an option. I mean that's what you have besties and your therapist for. Hell, go write 'you're beautiful, no matter what they say' and tape it on your mirror, literally anything else would be less obnoxious and try-hard than what you're currently doing."
But why hate? There's a certain kind of superficial self-pleasure — I won't go so far as to say empowerment — to be gained through executing a thirst trap. And Instagram is basically one big Thirst Trap: Whenever we post there, we do it for some gratification. So get your best #thirsttrapthursday photos ready and post unapologetically, like Rihanna would, without a thinly veiled misuse of Nietzsche.