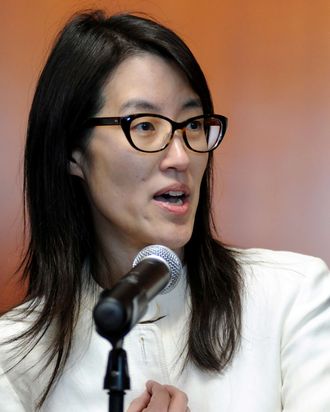 Photo: Josh Edelson/Bloomberg via Getty Images
"You don't really hear about randiness and mistreatment of women," one observer of Silicon Valley told the New York Times in 2012, the year Ellen Pao filed a lawsuit against her former employer, the venture capital firm Kleiner, Perkins, Caufield and Byers. "That doesn't prove it's not there, but that's not the lore."
No one could make such a comment anymore. In the years since, gender bias in Silicon Valley has become the lore. It's been the subject of magazine cover stories, investigative reports, and HBO shows — not to mention several other lawsuits that, unlike Pao's, settled out of court. (In fact, settlements and gag orders have been the Valley's default means of addressing sexual harassment: This discreet solution is "tribal knowledge," one woman told the New York Times.) But even though there's a growing recognition of sexism in the tech world, Pao's highly public case is a watershed moment in showing that people who commit harassment and discrimination are not the ones we should focus our energy on. It's the people who enable their behavior who need to change.
"Pao's case is often mistaken for a sexual harassment lawsuit," clarified Nitasha Tiku at the Verge. In fact, Pao's was a retaliation suit. She wasn't trying to hold the harasser accountable — she was accusing her supervisors of professionally punishing her because she was a woman speaking up about his behavior. On Friday a San Francisco jury found that Kleiner Perkins did not commit acts of retaliation against Pao.
Thanks to lawsuits and legislation over the past several decades, American employers have developed a set of policies to deal with the fact that sexual harassment happens at work. There are anti-harassment training programs. There are human-resources confidentiality policies. At some companies, there are clear disciplinary measures and ways of addressing such allegations in employee evaluations. These policies are based on the notion that people are going to act inappropriately at work, and therefore businesses must have systems in place so that such transgressions don't continue.
When it comes to these established coping mechanisms, Ellen Pao did everything right. When one of her co-workers made unwanted sexual advances, she reported the behavior to her supervisor. She asked that her bosses bring in sexual-harassment educators and outsiders to investigate her claims. After experiencing what she felt was retaliation for her reporting the harassment — such as not being invited to certain events, or being poorly evaluated in a performance review — she sought the advice of an outside human-resources consultant. The consultant told her "she would not be successful at [Kleiner Perkins] because she complained and that going forward she should drop her complaints, because no one would do anything about them." And so, when that prediction proved true, she filed a lawsuit. And then she was fired.
Women like Pao, who follow the policies that businesses have established to address discrimination and harassment, and then file a lawsuit when the problem goes unaddressed, are often portrayed as ax-grinding, money-grubbing, or otherwise self-interested. Yet in reality, suits like this almost always have career-ending consequences. Her current position as interim CEO of Reddit could turn out to be just that — interim, not permanent — now that a jury has found against her.
The jury found that she was not fired due to gender bias, or because she demanded her supervisors address the harassment problem. But the trial illuminated a phenomenon that nearly every working woman has experienced firsthand: Supervisors' reliance on gut-level assessments of workers' performance rarely ends well for women. "Those of us following the trial day by day in person or by reading reports had to consider how a person's personality plays into their ability to fit into an elite club," wrote Liz Gannes at Re/code. Whether it's the "pushy" Jill Abramson or the "prickly" Ellen Pao, cases of high-profile women losing their jobs under dubious circumstances tend to generate a lot of discussion about how the rest of us are assessed.
This issue is about to make headlines again. Several Twitter employees have filed a class-action lawsuit alleging systemic gender bias. It charges that the company's approach to promotions "creates a glass ceiling for women that cannot be explained or justified by any reasonable business purpose." And it will be interesting to see what a jury has to say when it's not about one woman's performance, but a collective experience that the rules are not enough to guarantee fairness.