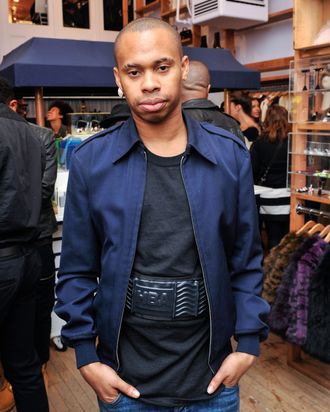 Shayne Oliver.
Photo: Leandro Justen/BFA
There's a new theme every day on It's Vintage. Read more articles on today's topic: Rave Fashion.
In case the wide, JNCO-like pants in Hood by Air's fall 2015 show didn't tip you off: Let it be known that designer Shayne Oliver used to be seriously into rave fashion. He talked to the Cut about his teenage love of all things PLUR and how it's influenced his present-day designs, as well as the most jaw-dropping outfit from his baby-raver years.

"Being from the Midwest, it started from there — feeling the influence of rave from pop culture, from being in malls and going to Hot Topic. Having this feeling that resonates through the clothing, this idea of being in an open space, and dancing as freely as you can, the music being excessively loud.
"Around middle school, I'd be buying UFOs and Kickware and JNCOs and Silver Tabs and getting ringer tees from vintage stores. I didn't know where it was coming from, I just felt the energy and was really attracted to it. That's why I identified with Raf Simons at a very young age, maybe like 12, because he was very influenced by that look, too, that sensibility.
"That sort of culture is really huge in places that kids don't have anything to identify with. Obviously, I was too young to even be invited [to raves]. I didn't know what was happening, but I knew it was something [big].
"Rave has always been a fashion statement to me — that silhouette was fashion. I thought, That is exactly what I want to look like when I grow up. It takes everything to an extreme level. Your jackets are really big, your pants are huge, your shoes are really large. It felt new in every way. It was taking normal items of clothing and exaggerating them.
"People were trying to outdo each other with the size of the pants. It was kind of a novelty. They were doing 52-inch ankles, saying, 'Those are 28s, you're not even on my level.' It was all about who had the widest pants, and kicking a Mecca piece or wearing it with Timberlands, incorporating our own style into it. There was no discrimination in terms of race, or where you were from. If you were a raver, you were a raver, and that's it. But it's like any scene, it becomes cliquey. But there is unity in that — being part of a crew that accepts you. I didn't encounter assholes in the rave scene.
"It's about extremes. How high can you get? How far can you push it? I remember those kids were really smart — maybe they were doing drugs and wasting their brain away, but they were doing well in school.
"I actually used to buy all the women's stuff, so I had a baby-blue crushed-velvet ribbed turtleneck, and I would pair it with the wide-leg pants in this silver-y fabric, and I had pants that would turn into a purse, and I would carry it. At that point, DKNY was making really cool sneakers that were silver, with some kind of silver webbing or netting. There was this one area where we would just walk around and parade our outfits. It was like, 'Oh no, he did not mix this with that.'
"Those moments will always be a part of who I am, and how I think about fashion. The extremity of that culture, is maybe that influence. Taking it to the next level. I'm showing you something that is next-level not to shock you, but to give you something new. Something that is maybe shocking to some people, but it's just fresh. Rave to me was a lifestyle. Of course I'm doing wide pants [on the runway now]. I guess it does influence me — those boys [male models] remind me of the boys I grew up with around this time.
"[The fact that JNCOs are coming back] is so, so, so dope. Those silhouettes are becoming a part of fashion [again]. It's come full circle."