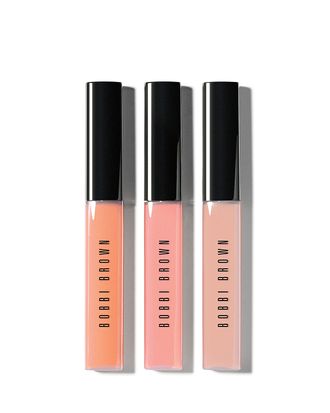 Bobbi Brown's Illuminating Lip Gloss Collection.
Remember lip gloss, the goopy veneer of your tweens? It's been out of style for most of the last decade — replaced by creamy and matte lipsticks. But now, Bobbi Brown's new Illuminating Nude Lip Gloss collection will make you want to live in the lip-gloss glory days once more.
Each tube is supremely, gloriously glossy — and gives off just a touch of color: Almost Pink is the least pigmented; Almost Nude is a light pink-meets-beige that appears almost frostlike; and Almost Peach is a warm mixture of coral and pink. I alternated the shades over nude lipstick to amplify the color, which resulted in a look that would make Jennifer Lopez positively giddy. But the best part about these glosses is that they actually stayed on. You know how lips appear especially glossy after grazing a cool ice cube? Imagine that, all day long.
Bobbi Brown's Illuminating Nude Lip Gloss shades, $25 each at Bloomingdale's.