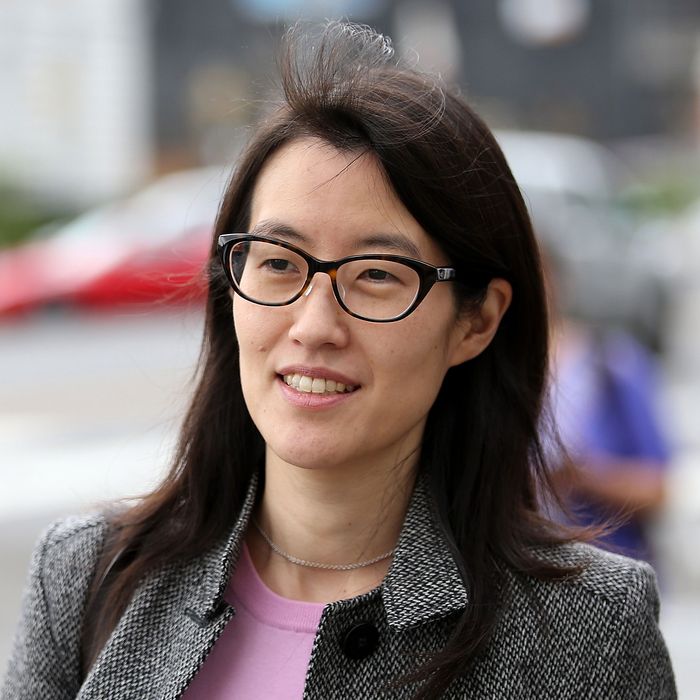 Ellen Pao.
Photo: Justin Sullivan/Getty Images
With millions at stake, salacious rumors flying, and high-powered financiers testifying, the Ellen Pao trial has drawn the rapt attention of Silicon Valley. In 2012, Pao, a junior partner, filed a lawsuit against the respected venture-capital firm Kleiner Perkins Caufield & Byers, where she'd worked for seven years. She alleges that Kleiner discriminated against her and is seeking $16 million in damages. According to Pao, when she complained about gender-based discrimination, the firm hired a biased investigator who dismissed the charges. When she sued, the firm retaliated by firing her.
Pao paints Kleiner as a boys' club, with little concern for the mistreatment of female staffers. Cumulatively, the slights she describes add up to an inhospitable environment. She alleges that a male partner excluded female staffers from a dinner because they'd "kill the buzz"; that conversations during company time revolved around porn stars and strip clubs; that she was left out of the all-male company ski trip in 2012; and that she was once gifted a book with erotic drawings by a senior staffer for Valentine's Day. It was Leonard Cohen's Book of Longing, which the New York Times called "steamy." The gift was purportedly followed by an invitation to dinner and the information that the staffer's wife would be out of town.
The central complaint has to do with what happened after Pao had an affair with one of her married co-workers. According to Pao, he repeatedly pressured her for sex, and she acquiesced to a relationship after he falsely claimed to have left his wife. Pao alleges that after her brief affair with Ajit Nazre ended, he began to leave her out of crucial meetings and emails. When she complained to management, a senior partner told her how he'd met his own wife at another company while married to someone else and suggested that perhaps Pao could find a husband among her colleagues (so reports TechCrunch).
In late 2011, on the same day that Pao went to complain about Nazre to company higher-ups, Re/Code reports that a female co-worker named Trae Vassallo arrived with her own complaint. She claimed Nazre made multiple unwanted sexual advances, and eventually showed up at the door of her hotel room one night when they were in New York for business. She eventually pushed him out and closed the door. When she spoke to senior partner Ray Lane, he joked that she should be "flattered." When Vassallo was questioned in court, she said she felt some superiors individually supported her, but that the company mishandled her unwanted sexual encounter with Nazre. Vassallo left in 2011; Kleiner eventually fired Nazre in 2012.
After the allegations were made, Kleiner hired investigator Steve Hirschfeld to look into complains of sexual harassment. Hirschfeld found that gender discrimination wasn't an issue at the firm, but his testimony during the trial paints a different story. According to Hirschfeld, John Doerr, Pao's mentor and direct boss, suggested she "had a female chip of her shoulder." On the stand, Hirschfeld said that Doerr told him that senior partner Ray Lane "lacked sensitivity toward women." Doerr also acknowledged that Lane "did something stupid" when he asked Pao and another female junior partner to take notes at an event. During her years at Kleiner, Pao watched male co-worker after male co-worker get promoted to senior partnership. Despite three Ivy League degrees and a tenacious work ethic, Pao was never promoted to senior partnership.
Kleiner maintains that it doesn't have a gender-discrimination problem. But the company — founded in 1972, called "one of the largest and most established" VC firms by The Wall Street Journal — didn't have an equal-opportunity policy on the books until 2012. When Hirschfeld asked to see it during his investigation, he was told by the firm's COO that it couldn't be found. The policy waved around in court by Kleiner's lawyers wasn't created until 2012, after Kleiner hired a lawyer to draft one because the company either couldn't find its existing one or had never made one.
Attorney Lorene Schaefer, president of the Workplace Investigations Group, told CNBC in an interview, "I've been practicing law since 1990, and have done close to 1,000 investigations, and I have never conducted an investigation where they have not had an anti-harassment and EEO policy. Ever."
As the trial has unfolded over the past few weeks, it's clear that Pao's gender had put her at a disadvantage. Last Friday, Pao answered a series of juror questions submitted to the judge; for example, jurors wanted to know more about a performance review that criticized Pao for canceling a meeting and failing to set up a follow-up with the proper people. In a shaking voice, she told the courtroom that she'd been hospitalized and suffered a miscarriage. At another point during her tenure at Kleiner, the company put one of her male co-workers on of the board of RPX while she was on maternity leave. Pao contends that she'd been nurturing the start-up and that the coveted position should have gone to her.
In multiple performance reviews, she was criticized both for requesting recognition of her work and for being too quiet. But the defense's attempts to paint Pao as incompetent and difficult have fallen short — she's now the interim CEO of Reddit. During cross-examination, Kleiner lawyer Lynne Hermle instead questioned Pao's integrity and morals. When asking about Pao's affair with her then-married co-worker, Hermle said, "You knew he was married with small children?" and "At the time you began your sexual relationship you were 36 years old?" seemingly implying that Pao was too old to fall for a deceitful co-worker.
Hermle also questioned Pao about a number of text messages between Pao and Nazre, in which Pao was complimenting him, contemplating staying together, and mocked their co-workers after she'd found out he'd lied about splitting up from his wife. The messages were exchanged during a time when she alleges he was retaliating against her. Was she making a calculated decision to placate a co-worker who was already taking out their breakup on her, or, as the defense suggests, did she make up perceived slights?
Pao's case is not perfect, and the two sides are fighting about the admissibility of financial records. Both Vanity Fair and Fortune have suggested that Pao's lawsuit came about as her husband's hedge fund filed for bankruptcy. Kleiner staffers refuted multiple meetings Pao claimed took place. The VC firm also pointed out that Pao hired an employment lawyer and sought a significant ten-figure settlement before sending a memo to co-workers about the problems women face at Kleiner.
Yet even if she was repeatedly excluded for being female, it's not at all certain that she'll win the case. According to legal experts, the definition of discrimination and harassment doesn't fully address the nuances of gender bias in today's workplace — gender relations influenced by subtle and possibly unconscious biases against women are much more difficult to prosecute. Pao's team has to prove both that Kleiner discriminated against her and that it had the intent to do so.
Unfortunately, the grim statistics on gender imbalance in Silicon Valley won't carry much weight, even though they demonstrate how inaccessible high-powered jobs are for women. Research conducted by Fortune has determined that only 4 percent of people in senior investing roles at VC funds are women. Many firms have no women in investing roles; Kleiner, ironically, does better than most, with female senior investors making up 20 percent of the total.
In Silicon Valley, women are supposed to remain in the background, but also learn to lead. They're disrespected and then maligned when they point out their own contributions. While the two legal teams fight over whether Pao is a catty, jealous employee desperate for millions or a hard worker hampered by discrimination, she's nothing if not determined. Pao continued to work at Kleiner for five months after filing her suit before she was finally fired. During those tense months, Adam Bosworth (her former boss at software maker BEA Systems) asked Pao why she hadn't just left. Pao's response, according to Bosworth: "Why should I leave? I haven't done anything wrong."