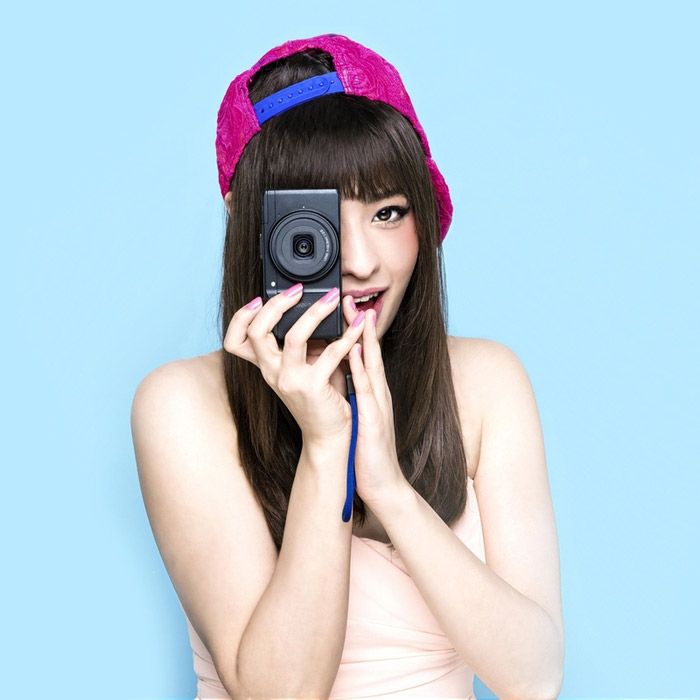 Selfie or it didn't happen.
Photo: Courtesy of Kero Kero Bonito
"Picture This," the latest single from Kero Kero Bonito, serves three purposes: It's a commentary on our obsessive Instagramming; it's a celebration of our obsessive Instagramming; and, when lead singer/rapper Sarah Bonito says, "Hold the camera high and click. Exercise your right to picture this and don't forget to show everybody you've ever known," it is a selfie instruction manual. All contained in one criminally listenable song.
The aggressively happy, shiny J-Pop song is a perfect example of what makes Kero Kero Bonito so great. The London trio formed via an ad on a message board for Japanese expats, and they produce hyperbright pop music that pulls influence from varied hip-hop genres — adding deep bass here or a surprising reggaeton riff there. And Sarah Bonito's lyrics have an undercurrent of sarcasm that keeps her interests (homework, parties, video games, furry animals) out of the realm of twee. She uses songs as opportunities to slyly piss all over traditional gender roles — like on "Sick Beat," an ode to girl gamers, or "Babies (Are So Strange)," her attempt to understand motherhood. Listening to Kero Kero Bonito is like living in an episode of The Powerpuff Girls in the best way possible. 
If you dig "Picture This," acquaint (or reacquaint) yourself with "Sick Beat," an earlier track from the band's summer mixtape, Intro Bonito.