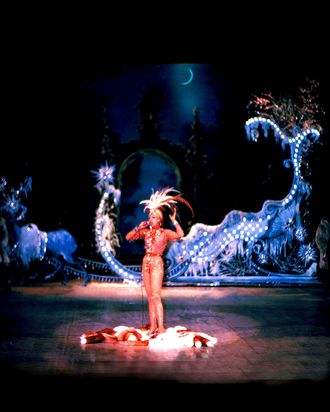 Photo: Courtesy of Flatiron Books
It's been a while since fashion shows were just about the clothes; Valentino's Zoolander stunt this season was hardly a new concept. The epic face-off in 1973 between American and French designers at the Battle of Versailles was a spectacle jam-packed with over-the-top theatrics, from pole dancing to a giant Cinderella pumpkin. During the tame French segment, Dior brought haute couture to life with a full classical orchestra, Yves Saint Laurent had Zizi Jeanmaire sing "Just a Gigolo," and jazz star Josephine Baker gave a closing performance.
The Americans brought a bit of Broadway to Versailles and stole the show with soul. Halston had Funny Face star Kay Thompson doing the models' choreography alongside Liza Minnelli's adaptation of "Bonjour Paris," while Stephen Burrows's girls moved freely to Al Green's "Love and Happiness." Relive the night with these tracks and more in our playlist below, including the dark Scorpio Rising soundtrack Anne Klein used to set the mood for her African-inspired collection, Barry White's "Love's Theme" from Oscar de la Renta's presentation, and Minnelli's closer, the title song from Cabaret.