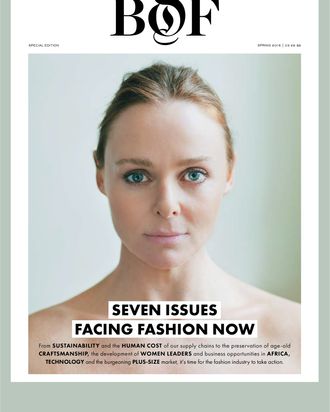 Stella McCartney.
Photo: Courtesy of Business of Fashion
Earth-friendly poster girl Stella McCartney covers The Business of Fashion's fourth print issue, which is out on the 30th and focuses (appropriately, given its cover star) on sustainability, among other issues facing the luxury fashion industry. "We are, of course, the most ethical and loving company in the fashion industry," the designer jokingly told BOF founder and editor Imran Amed. "But at this stage I always have to apologize to my designers and creative team for the limitations [this creates]"— for example, developing proprietary materials as alternatives to leather and fur.
"I was brought up feeling like there were no limitations and that you didn't need to be safe," the designer told Amed. "I grew up with parents who got reviewed. It could be the media review or a human review, and that was brought to my attention from day one. So I guess for me, I thought, oh what's the worst that could happen? People can form an opinion about you that's not positive. I can handle that."
The focus on all things green made sense, Amed told the Cut. "The fashion industry is the second most polluting industry in the world, after oil. As the BOF team thought about pioneering individuals in the industry who have developed businesses that address this issue head-on, Stella McCartney was the first person to come to mind. She is a role model who has concrete experience in thinking about how fashion businesses can become more sustainable, and there is much we can learn from her experience." In addition to McCartney, the issue highlights established names like Chanel, Inditex, and Gap, as well as start-ups like Eloquii and Ringly, and includes a special section on female fashion leaders with advice from the likes of Tory Burch and Diane von Furstenberg.