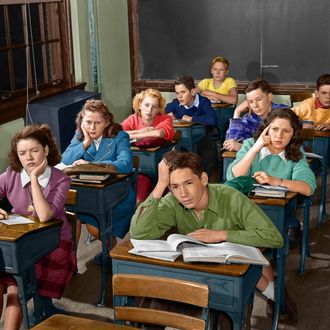 Photo: H. Armstrong Roberts/Corbis
A communications professor at the University of Kansas, tired of teaching to a classroom of students whose faces were all bathed in the blue light of their laptop screens, banned technology-enabled note-taking from her classroom for a semester. "I … had a theory, based on my college experience from the dark ages — the '70s, a.k.a. before PowerPoint — that students would process lectures more effectively if they took notes on paper," writes Carol E. Holstead in a piece for The Chronicle of Higher Education, published earlier this month. 
As it turns out, research published in Psychological Science last year backs up Holstead's theory. Researchers at Princeton and UCLA found over three studies that proved that students who took notes on a laptop performed worse on tests than their peers who'd taken notes by hand. At the end of Holstead's classroom experiment, she gave her students a questionnaire to see how they felt about being separated from their MacBook safety blankets. Her survey, she acknowledges, is a highly unscientific one, but the results are interesting anyway:
Roughly 86 percent of the 95 students who responded said they felt they paid the same or better attention in the class without a laptop in front of them. About 52 percent said they paid more attention. 
She also asked the students an open-ended question about how they liked the exercise in handwriting, and overall, the students who thought it was important to record every word hated being parted from their laptops — they couldn't write as quickly longhand. Those who took notes more selectively, on the other hand, mostly liked the experience just fine.
Interestingly, the Psychological Science study authors argued that this selective note-taking is what helped the longhand note-takers succeed when compared to the laptop transcribers. "The present research suggests that even when laptops are used solely to take notes, they may still be impairing learning because their use results in shallower processing," the study authors write in their abstract. "We show that whereas taking more notes can be beneficial, laptop note takers' tendency to transcribe lectures verbatim rather than processing information and reframing it in their own words is detrimental to learning." Sometimes the old-fashioned approach holds up.