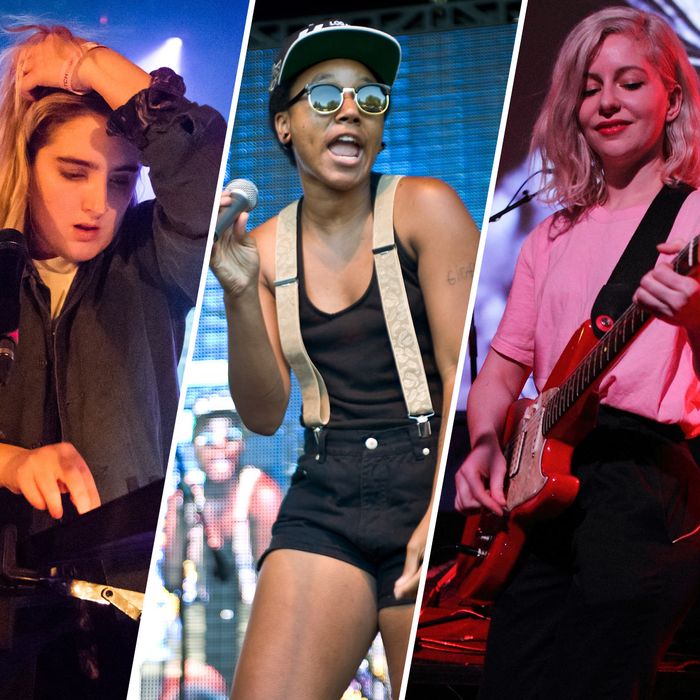 Elle King, Shura, THEESatisfaction, Alvvays.
Photo: Roger Kisby/Getty Images, Dimitri Hakke/Redferns via Getty Images, Timothy Hiatt/Getty Images, Burak Cingi/Redferns via Getty Images
Finding your particular jam from South by Southwest, a task akin to locating a needle in a pile of 2,000 other needles, is always a beautiful struggle. It's a world of plenty. The Cut has selected ten female singers and bands that are particularly shiny, sharp, and great-sounding needles to watch for this year.
Alvvays
Toronto-based band Alvvays takes sunny '60s-leaning pop rock and runs it through a shredder, which means songs like the pleasantly earnest "Archie, Marry Me" go from earworm-y to witty and sardonic, especially when delivered in Molly Rankin's delightfully deadpan vocals. —Allison P. Davis

Little Simz
"Basically because I can, that's the explanation for this right now," Little Simz announces, by way of introducing her song "Intervention." That pretty much sums up this 21-year-old English rapper: a joyful combination of freedom, talent, and bravado. —Maggie Lange
Shura
Shura's lyrics are sad and cynical about love, but someone tell that to her billowy melodies. They're pretty romantic! It's like her bass line is trying to tell her he's always been in love with her. Flirty instrumentals aside, this 23-year-old English singer and songwriter has a sleepy pillow-talk sound that's both sexy and relaxing. —M.L.
Kehlani

If Lauryn Hill and Brandy had a baby and fed her a steady diet of swag formula, the result would be 19-year-old singer Kehlani Parrish. Listen to this Oakland native's stellar mixtape Cloud 19, and you might feel like you time-traveled back to 1996, but her breezy and soulful R&B has enough East Bay flare that it feels uniquely hers and not at all dated. Also, she earns major points for executing a perfect early '00s dance sequence in the video for "FWU." —A.P.D.

Bully

This buzzy Nashville band has a summer-night, spinning-around-in-circles kind of energy. They'll make you wish you had a beat-up convertible you could take on an aimless drive and loudly sing the words you can understand. —M.L.
Chastity Belt
This punk-y four-piece writes anthems for "all the girls in the world / trying to take off their shirts" who also consider feminism a default. Thanks to the power of Julia Shaprio's warble, their fun, fuzzy songs like "Cool Slut" and "Drone" (central message: fuck mansplaining) double as a DGAF handbook for the millennial woman. Their debut, Time to Go Home, comes out next week, which means you have all of SXSW to become their biggest fan. —A.P.D.
THEESatisfaction
If you had to classify the music that Catherine Harris-White and Stasia Irons make, "neo-soul" is probably as close as you'd get. Really, though, what they do is otherworldly and defies all definition. The groovy, spacey, '70s-esque beats are mashed with vocals and rap that enters the realm of spoken word. It'll make you simultaneously want to dive into a discussion of black lesbian identity politics, smoke a lot of weed, dance in slow motion, and make out with anyone and everyone. —A.P.D.
Elle King
Elle King's honky-tonk purr knows way more about life and stuff than the rest of us, so we should listen the hell up. It sounds like bourbon on the rocks, with maybe a tiny bit of cigarette ash dusting the glass. It's all very brassy. —M.L.
Arum Rae
Arum Rae's voice has a seductive sway despite her folk vibes. Even at this Brooklyn-based singer's most frantic (like on "Something's Happening to Me"), her vocals manage to sound slow and beckoning. It's a voice that doesn't have to rush for anyone. —M.L.

QT
If you had synesthesia and listened to QT (the creation of performance artist Hayden Dunham), all you would see is the color hot pink. QT is just one of many acts to emerge from London's delightfully baffling PC Music group, and she distills all of the poppiest elements of pop — futuristic blips, K-pop, fizzy lyrics, sunny melodies, Mountain Dew, Mario Kart, Ariana Grande — and blends them together to create a super-concentrated version of the genre that's both totally familiar yet totally unfamiliar. It's music for aliens, or people on lots of drugs. Overall, a win. —A.P.D.