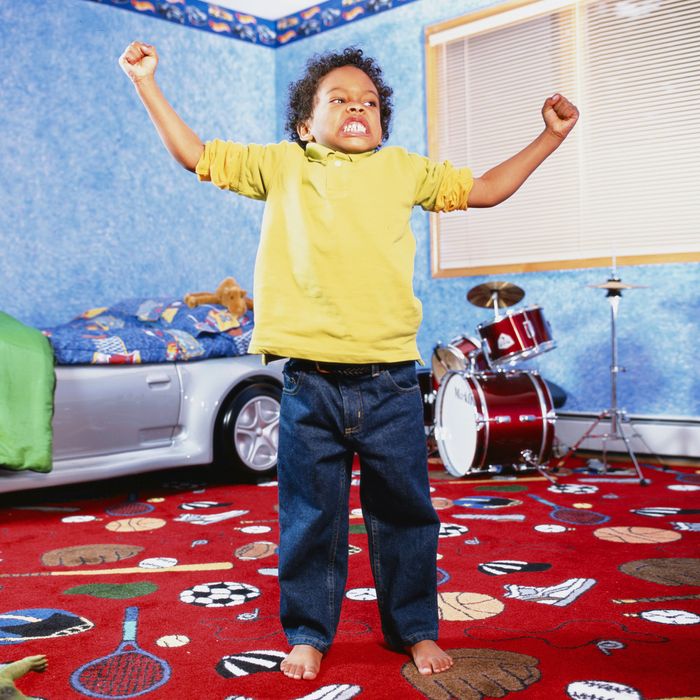 Photo: Camille Tokerud/Getty Images
Before you try to slip your precious little prince into an adorable pair of OshKosh B'gosh dungarees or style him like a mini skater-boy in black Levi's skinny jeans for toddlers, beware: The children will have no more denim.
Just as the tweens and teens rejected torturous denim pants in favor of more comfortable athleisure styles, the jeans rebellion has spread to the very young and newly ambulatory.
"My 2.5 year old hates wearing jeans. He was never keen on them, but he now screams murder as soon as he sees me coming with jeans," one befuddled mom wrote on netmums.com, according to the New York Times "Style" section. Another woman shared her difficulty even getting her children to wear corduroy to dinner instead of their beloved jog pants and basketball shorts.
While this rebellion is causing distress among denim-loving mothers of America, it's really an opportunity for retailers like Crewcuts and H&M to get into the child athleisure game. And for toddlers, elementary schoolers, and preteen boys to flex their fashion muscle — like future style icon and inspiration to us all, Jackson, age 7.5, who can be seen cavorting in Brooklyn wearing his "favorite" red sweats, held up with matching suspenders.