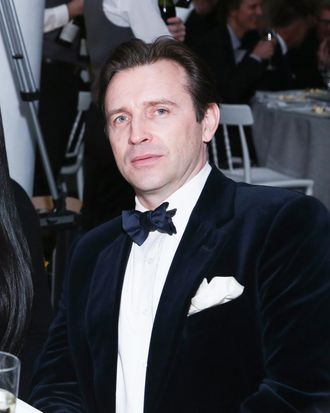 Andrew Richardson.
Photo: BFAnyc.com
"You just have no life," jokes Andrew Richardson about the secret to juggling his divergent career paths as a stylist (for publications like V and Harper's Bazaar), magazine editor (of his self-created title Richardson), and designer of a streetwear brand. Richardson has just unveiled an installation at Dover Street Market's New York store that will include his wares alongside tear sheets from his magazine and a selection of books from in-house purveyor Idea Books. Of his multi-pronged approach to fashion creativity, he says, "It's kind of a natural progression of the things I've been interested in since I was a kid. I'm lucky that I got the chance to do them." He spoke to the Cut about honey badgers, Teamsters, and some more of his unlikely fashion inspirations.
Why did you decide to use the tongue-in-cheek logos, like the Richardson Hardware logo on the T-shirts, with the Dover Street Market address?
I've always loved what we call "burners" — T-shirts that are quite generic. I think these are going to retail for $22. It's like when you go to a restaurant in Montecito or something and you get that $10 T-shirt. I imagined there was a hardware store, because it was an interesting play on words. When we opened our shop on the Lower East Side, we made a burner that we modified slightly. When someone goes to Dover Street Market and they can buy a T-shirt for $22, that's cool. There are stories behind the graphics. They do have this weird, hidden, in-the-know [aspect].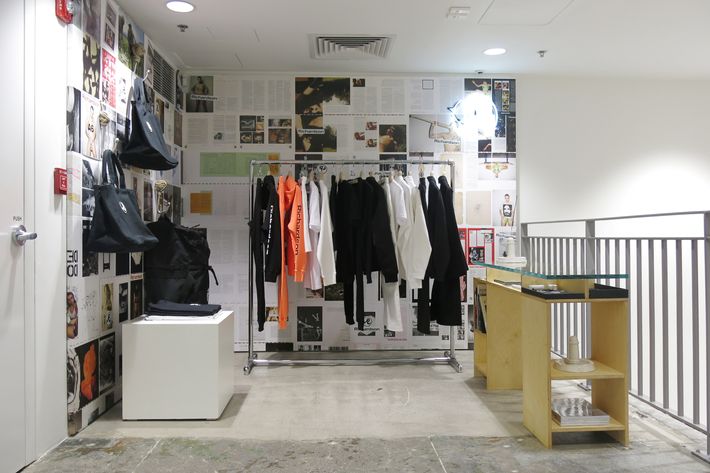 You seem to be drawn to these very simple shapes, like painter's pants, T-shirts, and sweats. What's the appeal?
I like really plain things, like sweatpants, like carpenter pants, like a work shirt. We're trying to make almost a basic platform on which to present an idea — like an imagined high-school wrestling team with a honey badger as its mascot. We did this Teamster thing, where we took the idea of the union seal, and imagined a Richardson kind of Teamster situation that has its own hidden language within the graphic. It's really about finding basic American [pieces] and reimagining them, or just tweaking them a little bit. So it's not a big design statement, but it's sort of a double take.
Being from Britain, are you attracted to these classic American design tropes like the baseball cap, the chino, and the car club jacket?
All the American kids always looked so effortlessly cool. I don't know what it is, maybe the fact that America is the most powerful country in the world, but there's something very cool and very attractive about American basic clothing. I became an American citizen about a year ago, and maybe that has something to do with it as well. These things do have a subtle effect on you.
And the T-shirts that you did with different artists, like Richard Prince and Bridget Riley — those grew out of  projects you did with them for the magazine, right?
James Jebbia from Supreme had said, "Why don't you do T-shirts with art from the magazine?" And that was where the whole idea came from, that we could do a clothing line. So then we've always done collaborations with artists from the magazine, and artists who aren't from the magazine.
You also selected a grouping from Idea Books for the installation. How did you select the titles?
Well, I've always been interested in buying books — my job as a stylist is, I'm constantly looking for inspiration and ideas. They had been selling Richardson magazine [in the store]. They're very interesting people, so I just got on well with them. They made weird, rare books that aren't by well-known photographers but are really cool and valuable — they elevate the value of the image. That's what I like about them, the democracy of good images, and the democracy of good books. When I opened a store on the Lower East Side, they consigned books to me. So we thought it'd be great to put a collection of books that they'd curated into [this] Dover Street Market space.
The eighth issue of Richardson magazine comes out in September. Is there anything you can tease about what we can expect?
The issue is about America, but it's this very specific view of America. I feel that this issue is turning out to be more like the earlier issues I did. This issue changes gears — I feel that maybe the last four issues were more "This is the subject, this is the idea" in a very direct, straightforward way, and I feel that this next issue gets a bit looser again and a bit more random. You'll have to see — it's taken two years to put it together, but it's quite a big subject we're dealing with.
Are you planning a big Fashion Week launch for the issue?
It's not really my thing, throwing a party. I just kind of do the magazine and then I want to hide away for a bit.
This interview has been edited and condensed.