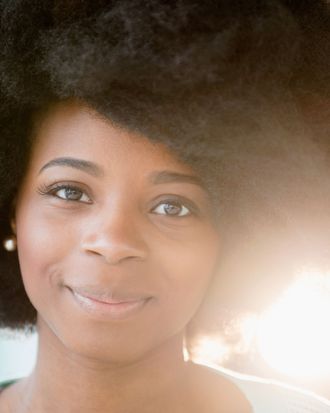 Photo: JGI/Jamie Grill/Corbis
For years, black women have complained of being targeted by the Transportation Security Administration for unnecessary screenings because of their natural hair. After pressure from the ACLU, the TSA has finally agreed to retrain security officers. Per the agreement, the agency will provide trainings across the country with an emphasis on hair pat-downs of black female travelers. TSA has also agreed to specifically track hair pat-down complaints filed by black women at all airports they oversee to determine whether discriminatory practices are still occurring.

In 2011, Timery Shante Nance was one of many black women pulled aside after being cleared by a full-body scan. She described watching white women with curly hair and bushy ponytails waltz through security as a TSA screener insisted on "patting" her hair, which was worn in a style she described as a "normal looking puff." Other travelers stared at her and the experience was deeply embarrassing; a complaint she lodged to the TSA garnered no response. After repeatedly being singled out, Novella Coleman, who happens to be a staff lawyer with the ACLU of Southern California, filed an official complaint in 2012. TSA did not make any policy changes.
A year later, Solange took to Twitter after Florida TSA agents searched her Afro. "My hair is not a storage drawer," she tweeted. MSNBC's Melissa Harris-Perry has also been vocal about the "full on fingers through the braids, scalp tickling treatment" she's received at the hands of the TSA. In an open letter to John Pistole, who was then head of the TSA, she wrote, "if your $170,000 machine can see under my clothes, but can't figure out I'm not hiding a bomb in my braids, maybe it's time to recalibrate the machine."
The TSA's changes come after a second complaint filed by the ACLU in 2013. Malaika Singleton, a Sacramento-based neuroscientist traveling to London for an academic conference on dementia, was pulled aside by TSA officers as she exited and reentered the country. "The first time I was shocked," she told BuzzFeed. "I just did not expect that. I felt violated."
It's not yet clear what exactly the trainings will offer, but Coleman, who still works at the ACLU, will attend and observe. She remains optimistic that retraining will help stop the discriminatory practice. "I think right now we're in a hopeful place," she told BuzzFeed.