The Big, Sudden, Unexpected Joy of Encountering Modernity
And the joy of encountering something in different settings.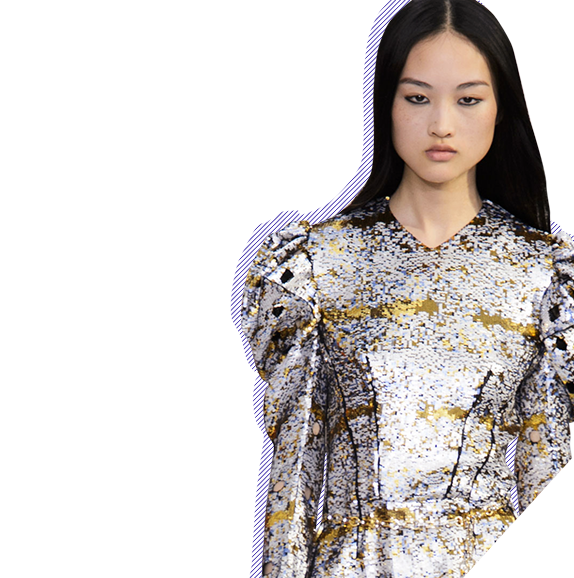 The Big, Sudden, Unexpected Joy of Encountering Modernity
And the joy of encountering something in different settings.
The air smelled sweetly of spring, on the last morning of Paris Fashion Week. At 9:45, black cars were already snaking, two deep, in the driveway of the Frank Gehry–designed Fondation Louis Vuitton, which floats like a ghost ship in the Bois de Boulogne. People walked around Gehry's pool, with its artificial rapids, behind the main building, to reach three giant geodesic domes, which had been erected for Nicolas Ghesquière's fall Louis Vuitton show — at a cost of several million dollars, they and three smaller domes would be torn down immediately after. It seemed, though, a small price to pay for the flagship brand of Bernard Arnault's LVMH luxury group. Last year, Louis Vuitton accounted for half of the group's $6.4 billion net profit. And considering the props for past shows — a vintage train, a working carousel — a mushroom crop of domes didn't seem so extravagant.
Climbing the steps to the first of the interconnected domes, with their indelibly modern, curving walls, and large, color-coded seating areas, I felt a sudden, unexpected burst of positivity about these big Parisian shows. Ghesquière's domes had the tingle of something new around the bend, and, what's more, they were consistent with the spirit of his brisk fashion. In the year since taking over as creative director, succeeding Marc Jacobs, he has put the brand on a forward path. No more choo-choos. His Vuitton clothes are luxury sportswear at its liveliest — at once cool and wearable. With styles like lace-knit mini shifts and this season's fat sheepskin coats, they acknowledge the impossibility of creating new fashion; and yet, unlike certain designers who layer their shows with a rock-star cool (or some other mania), Ghesquière's clothes seldom look retro. In fact, the closest he comes to embracing a pop sensibility is in his use of materials with a tech luster, though even then he is restrained.
No, Ghesquière is remarkably open — more than he seemed when he was doing small, exclusive, history-laden shows for Balenciaga — and that attitude was reflected in the domes. 
The fact that many of Ghesquière's new clothes look comfortable is one reason for their appeal. It's a costly comfort, to be sure; and looking at clingy ribbed knits that curl up at the hems (because they're left unfinished) or dresses and T-shirts that use lingerie details like lace and boning (for effect as well as structure), I wonder if Ghesquière isn't confounding our notion of comfort by turning it into a fetish. If that's true, then much of the fashion world is now at his mercy. We cannot look away, because he is too inventive. At the same time, Vuitton wants to up its game — to create more limited editions and special products, like the new vanity-size box bag that will retail for around $12,000. 
But it's Ghesquière who has truly raised the ante. When asked backstage to describe his main impression of the first year, after two decades in fashion, he said, "I have the feeling I spent those years getting ready for this moment."
Returning to the front of the Gehry building, I watched a group of photographers muster around a young woman, forming such a tight knot that she seemed conveyed over the sidewalk. As she made her inglorious exit, I looked up and saw on the other side of the road, at the edge of the woods, an elderly man sitting astride a chestnut horse. I'm tempted to say the beauty of one scene was chiding the other, but in fact the beauty was that both existed in tandem.
I went back into town to Chanel. One reason that LV's big show worked is that it offered you both spectacle and proximity to the clothes. Chanel's brasserie merely fed the collective assumption that we might miss something if we stayed in bed. Like an iceberg. Or a giant bottle of Chanel No. 5. And maybe that's all anyone expects from a Karl Lagerfeld blockbuster: a whiff of Chanel. But the need to experience real things, including fashion, seems more powerful than ever, especially now that many of the human connections seem brutally thin. For me, the best collections of the season tried to give more space to the intimate and the individual, shows like Lanvin, Dior, Céline, the masterful Junya Watanabe, much of Chloé. 
"No more masks," Sarah Burton told me, after her excellent McQueen show. She was referring to some of the dramatic flourishes that have been part of the McQueen repertoire, but have come to feel labored. Anyway, as a designer, Burton is better than that, as she demonstrated with some finely detailed lace-knit dresses (done on a new machine, she said) and a remarkable coat-dress in narrow black bands of velvet, sheared mink, tulle, and chiffon. Miu Miu's stylization of clothes-fever produced a mash-up of kooky separates that is actually hard to pull off unless you're 18, or Miuccia Prada. Valentino, on the other hand, seemed for connoisseurs. As quickly as long checkerboard dresses, or religious white collars with black, conjured a mood, another one replaced it, so that very little penetrated the brain.
Lagerfeld doesn't need me to tell him he designed some great clothes this season. He's reminded of that every time he enters Chanel on Rue Cambon. But it was gratifying to me to discover things in the showroom that I'd been unable to appreciate in the scale and noise of the brasserie, like a long evening skirt made of lace-edged handkerchiefs or another made of disconnected bands of black satin. In previous years as a critic, I've rarely had time to get to showrooms and examine a collection after the show. Now I realize it might actually be the difference between seeing and not seeing.