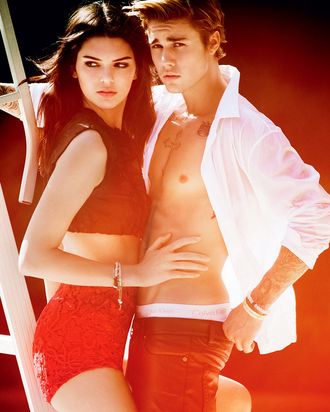 Kendall Jenner and Justin Bieber in Vogue.
Photo: Mario Testino/Vogue
The original Brat Pack may have had a 1985 New York Magazine cover story all to themselves, but there's a new pack of brats in town, and they have Mario Testino on retainer. Justin Bieber, Kendall Jenner, Gigi Hadid, Dylan Penn, Ansel Elgort, and assorted other Hollywood youths posed for the legendary photographer in a new Vogue spread that invites us to "Meet Hollywood's New Brat Pack."
While the 1985 edition of the Brat Pack was heavily into the nightclub scene, this junior set is painted as a group of sushi-loving wallflowers. "Gigi and I? We first met at Nobu Malibu," says Jenner, who poses for a selfie-style series with Hadid, while Elgort shares that his favorite thing about L.A. is "getting really good sushi." Meanwhile, Bieber, clad in an unbuttoned Dior Homme shirt, shares, "I'm actually an introvert." You could've fooled us.