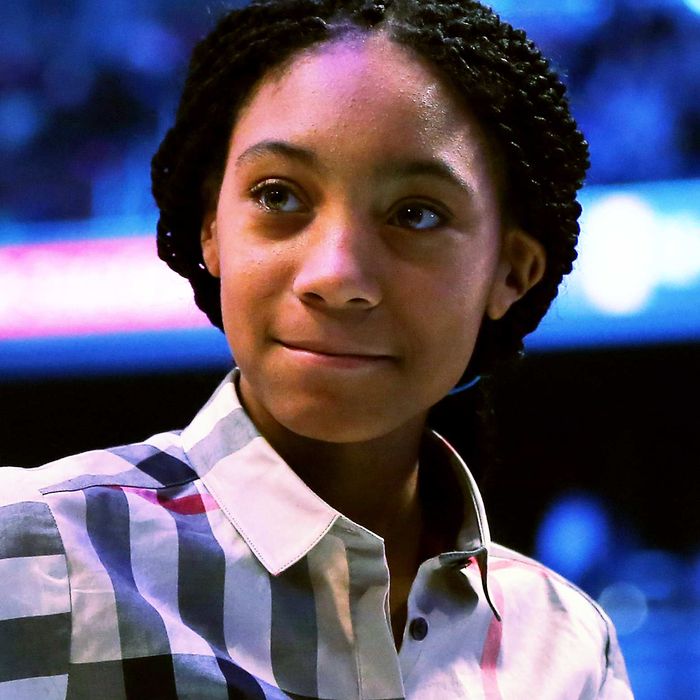 Mo'ne Davis.
Photo: Elsa/Getty Images
Apparently, on some parts of the internet, it seems totally cool and socially acceptable to call a 13-year-old champion athlete a slut on Twitter. From the standpoint of most decent humans (and all PR departments), however, it's generally frowned upon, which is why Bloomsburg University baseball player Joey Casselberry got kicked off his team after tweeting, "Disney is making a movie about Mo'ne Davis? WHAT A JOKE. That sl- got rocked by Nevada." This was in reference to Mo'ne Davis, the Philly teen turned sports superstar who became the first girl to pitch a shutout in the Little League World Series last summer.
Rather than relish in an enemy's downfall, as certain adults writing this blog post might do, Davis emailed Casselberry's university and asked that the first baseman be reinstated. In an interview with ESPN's Sportscenter, Davis said:
Everyone makes mistakes. Everyone deserves a second chance. I know he didn't mean it in that type of way. I know people get tired of seeing me on TV. But sometimes you got to think about what you're doing before you do it. It hurt on my part, but he hurt even more. If it was me, I would want to take that back. I know how hard he's worked. Why not give him a second chance?
That's a very impressive achievement in turning the other cheek.
Bloomsburg University, less Zen, is "standing firm in their decision" to punish the player.