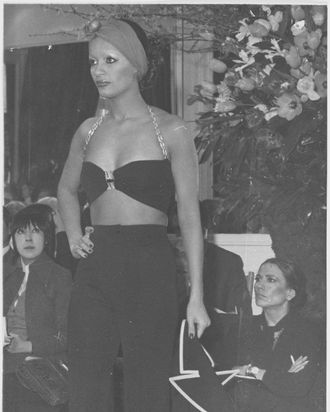 A look from YSL's spring 1971 runway show.
Photo: Courtesy Fondation Pierre Berge? - Yves Saint Laurent
Yves Saint Laurent titled his 1971 spring/summer collection "Libération," but it will forever be remembered as "Scandal," since it certainly caused one. Short dresses, green monkey fur chubbies, and over-the-top makeup were unheard of in haute couture, and renowned American critic Eugenia Sheppard went so far as to call the show "truly hideous." But for the French press, it wasn't just the short hemlines or louche looks that offended — it was  the designs' explicit references to the 1940s, a time synonymous in Paris with Nazi occupation that they weren't about to see romanticized.
Saint Laurent was so "crushed and depressed" by the reception that he skipped the post-show press presentation, Women's Wear Daily reported, and he was still feeling the consequences when the New York Times ran the headline "Criticize Yves Saint Laurent — and It Hurts His Mother" almost six months later. But Saint Laurent stood by his historical haute couture, telling Elle: "I don't care if my pleated or draped dresses evoke the 1940s for cultivated fashion people. What's important is that young girls who have never known this fashion want to wear them." Turned out he was right — the retro look would go on to define decades to follow. Below, some of the press's best burns in the days following the show.
WWD's cover story on Paris ready-to-wear's "attack" on New York fashions reads like a Comedy Central Roast, YSL edition.
One ex-fashion editor of Vogue said, "St. Laurent let down the whole Paris couture. For that, he deserves to have his face slapped."

As Francine Farkas of Alexander's said, "I have to wonder why we come to Paris anymore. I guess it's for the good food."

Another retailer said, "Those horizontal tucked pleats look like when they unwrapped the pharaoh. He shortened skirts in desperation to get some press comment."

And Dabadie of Le Figaro, a prissy little man who usually reserves his reaction for print, pointedly took out a copy of rival newspaper Le Monde and read and rattled it through the collection.

One retailer, who is one of St. Laurent's biggest boosters, said, "We can't even go back. There's nothing to buy."
The Guardian could hardly have been more grudging in its coverage, with a review called "Saving the Worst for the Last."
"St. Laurent spared us nothing. His collection was a tour de force of bad taste. Good taste may be considered ghastly, but nothing could exceed the horror of this exercise in kitsch. When in his last collection he inserted four 'Carmen Miranda' models in 1940 get-ups, some of us hoped he was joking. Alas, not so. They were a trailer; now we have the lot. I say again he spared us nothing. It was a travesty of the nineteen-forties designed by a man who must see that sad period through malicious lenses. He has picked out every fashion feature of the time, and then distorted it … or, where there is not distortion, he has willfully featured the aspects that were most unhappy. And underlined that."
One of the few mixed reviews came from the New York Times' Bernadine Morris, who summed up the collection as "Styles From the Demimonde."
"To put another name on it, it's the street-walker's nineteen-forties. That handful of trollop styles he brought out in the middle of his last season's collection (the long-skirt one) has proved prophetic after all. They're back in their fur chubbies with their Carmen Miranda turbans … but what kept accenting that tart look was the short skirts. In the nineteen-forties, nice girls covered their knees. Their mothers made them. Combine a bandage torso with a sweetheart neckline, some artificial flowers, and, well, maybe that's the spirit of the nineteen-seventies."