What Is Too Much? What Is Enough? What Looks Authentic?
Questioning notions of glamour at Céline, Loewe, and more.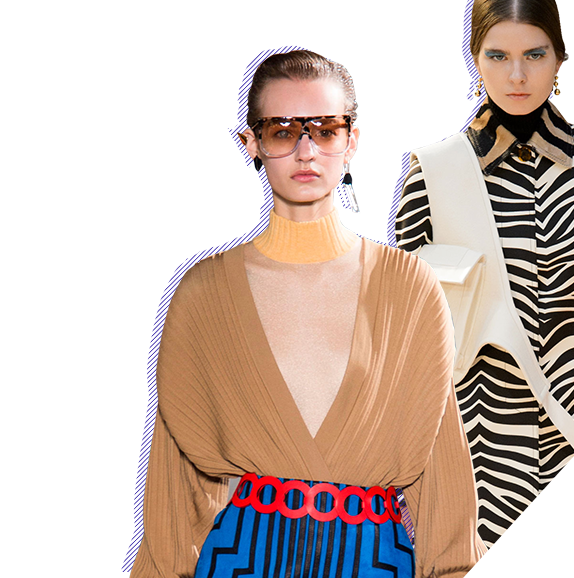 What Is Too Much? What Is Enough? What Looks Authentic?
Questioning notions of glamour at Céline, Loewe, and more.
Phoebe Philo, in a powerful, sure-footed statement today for Céline, finally addressed one of the most stubborn problems in fashion: how to make sexy clothes that don't sexualize a woman — that have a definite sense of glamour but also relate to how we live.
The show was probably Philo's broadest, most free expression yet of the kinds of things she likes; layered knits, a flair for surprising proportions, and accessories that throw everything off-kilter. You could tell from the opening outfits that Philo was pushing things with more self-assurance than she's ever pushed them — the wide-leg trousers with broken floral appliqués shown with clingy but comfy ribbed sweaters; the simple wool office dresses hemmed at the knee and worn with sneakers were bold questions about the notions of glamour. This was the first time her whole show made sense to me, and when I practically ran backstage to talk to her about it afterward, she explained that she and her design team began this season with a list of questions. What is too much? What is it not enough? And what looks authentic?
It seems to me that kind of hard-core questioning has been missing in fashion, which explains why so many runway collections lately look tentative or disconnected from women's lives. Many designers have a one-dimensional view of glamour that boils down to tits and fringe. They seem oblivious that many women evoke glamour in a single gesture — the way, say, we cinch a good-looking coat at the waist or let a loose top reveal a hint of collarbone. One was always aware of the body in Philo's show, even when it was mostly covered up. Sometimes, too, the telling gesture was red lipstick, worn by only a handful of the models — an effective nod to how wonderfully variable and unpredictable women can be in their self-presentation.
Indeed, what I most appreciated about this collection was its variety. There were outfits for women whose style isn't dressy, like the wool ponchos worn with knock-around skirts and shown with big shopper totes in a mixture of colors or textures. But then there were the double-layered slip dresses in three-tone washed silk, some worn with a long, ropelike boa finished with fur pom-poms the size of melons. Both the slip and the pom-poms were more typically elegant, but in seriously questioning the elements — and, literally, turning the fur into something playful on a string — Philo captured the complexity of a woman's desire to be at once chic, playful, smart, and, yes, glamourous.
Céline is one of the very few successful brand revivals of the past decade, which includes attempts by Carven, Maiyet, Schiaparelli, and more — while other names, like Rochas and Vionnet, replace their talent often enough to appear as avaricious as a Hollywood studio on its fifth horror sequel. But is there really a market for Vionnet's clumsy drapery? I wondered the same about Guillaume Henry's peacoats and T-shirt dresses at Nina Ricci, though they were nice enough. Henry is the new guy at Ricci, replacing Peter Copping, who went to Oscar de la Renta. More than half a century ago, when Christian Dior suddenly died, there was an economic imperative to keep his house going and promote Yves Saint Laurent. After the New Look appeared, in 1947, Dior's sales accounted for roughly half of France's fashion exports.

But today these old brands mainly seem to clog the fashion system, discouraging young talent and new ideas. That's why Jonathan Anderson's overhaul of Loewe stands out. After only one year at the house, he gives you a reason to take notice, generously offering up new ideas for dressing, like wide-leg trousers in herringbone worn with very cool blousons in leather or what appeared to be papery cotton, the collars folded back or done as cowls.
Anderson basically had three ideas in this collection, and that was enough: slouchy trousers and the chic blouson, a slim leather coat in icy pastels worn with matching pants, and a rather divine knee-length shirt dress in pleated metallic silk worn with black trousers. But you're free to play and wear the dress alone. And hey, an economy of design is never a bad thing.