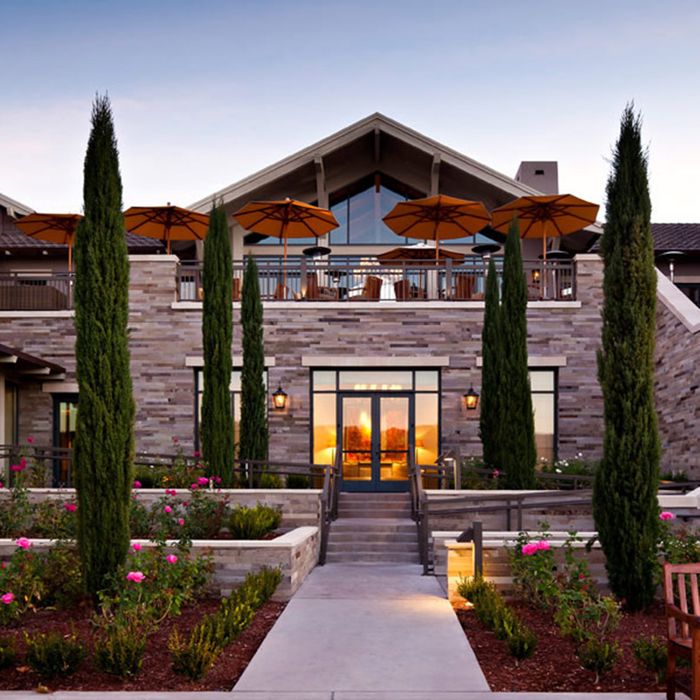 "I don't think anyone wants to call themselves a regular," says one 24-year-old venture-capital guy skittering awkwardly about the Rosewood Sand Hill hotel bar on a Thursday night. Instead, the patrons here usually lead with something less committal: I'm a curious observer. It's my first time. I'm meeting a friend for drinks. Please don't use my venture-capital firm's/hedge fund's name — the one on my Polartec fleece vest — or mine, either. "I'll be super-honest," this one tells me, once promised his privacy. "It's the closest thing to a college party for adults." That means good networking for his fledgling career, and, he concedes, "I come here for women."
We're 40 minutes south of San Francisco if you take Highway 280, boring into Silicon Valley, on a boulevard of understated office parks of venture-capital firms that power the tech industry. Everyone with an idea in this part of the world becomes, in effect, a gold digger — which makes it an interesting location for a bar. A Lamborghini and Hummer sit in the valet circle outside the hotel, and a Tesla quietly charges nearby. Right across the road from the Rosewood sits Kleiner Perkins Caufield Byers, the firm that just successfully defended itself against a suit from Ellen Pao, formerly a junior partner there, alleging gender discrimination. It's the only thing anyone in San Francisco wants to talk about right now, largely because it's forced the tech industry to consider the consequences (and definition) of covert sexism in the office. But if you want to understand gender dynamics in Silicon Valley, it's useful to see what they look like after-hours, in the most unvarnished setting. (After all, for better or worse, that's where people's real attitudes about gender relations fly without a p.c. filter or HR policies.) And there's no better place for that sort of observation than Rosewood on a Thursday, the leading pickup scene for tech's New Money.
"Thursday nights are quite famous," a philanthropic start-up co-founder in a Nordic ski-bum sweater tells me. "I don't mean this in a pejorative way at all" — he says, warming up to his next phrase with all the tact he can muster — "but the common term people use is 'Cougar Nights.'"
Actually, that's "Cougar Night," singular. The genesis of Cougar Night began after the Rosewood opened back in 2009, and minidress-wearing suburban divorcées started flocking in, apparently prowling for young VCs and tech bros who lapped up the female attention. The nickname was sealed in a 2013 Vanity Fair piece chronicling the scene, after which Thursdays became almost a parody version of themselves, and some of the Valley's more image-conscious started keeping their distance from the bar.
These days, men and women from their 20s to 60s stand six-deep at the bar and spill out onto the open back patio with a view of the Santa Cruz mountains. People come in packs: There are those who have the money (50-something VCs with designer eyewear and suits clumped together at the bar for safety, a table of Persian women on a ladies' night out in what looks like a Housewives of Silicon Valley casting call). Those who chase the money (ladies in heels chatting up one man after another like they're closing a sales deal; a few start-up guys eyeing the room for a casual interaction with industry folks). Those who want to look like they have money (a man in a tuxedo with a bow tie turns out to be a counselor at juvenile hall). Those who claim they just want to get a drink and gawk at the money. "It's kind of depressing," says an Atherton mom in skorts at a table of coiffed ladyfriends, at least one with a highly improbable nose. "I just wouldn't want to be part of this scene." (Saying you're not a part of this scene while at this scene is a very Rosewood thing to do.)
Here, women who actually work in tech seem to be scant, and the ones I did talk to seemed to stick close to a group of friends to avoid the fray. One entrepreneur in power pearls told me pitching a start-up idea would be a bad idea in such a sexually charged milieu, and likely wouldn't be taken very seriously (which is many women's complaint about actual industry-sanctioned events as well). Instead, the women I chatted up here included yoga instructors, townies, a Rolex saleswoman (truly!), divorcées, bankers, social workers, and housewives on a ladies' night out.
Cougars are only part of Thursday night's reputation, a trio of 20-somethings in cocktail dresses explain while inviting me to join a group selfie in the women's restroom. "They say Thursday night, it's the hot spot," says Melinda, a banker. "It's where all the prostitutes come out. We're talking, like, high-end beautiful girls."
She's certainly not the only one floating these suspicions. In the fall of 2012, a website called the Silicon Valley Pasquinade (pasquinade means satire) ran a story about Palo Alto police posing as Eastern European prostitutes and busting top VCs for solicitation. A couple of points should have flagged the story as technically false: There is no Palo Alto police chief John Wiggins (but there is a Chief Wiggum on The Simpsons). The Rosewood is in Menlo Park, not Palo Alto. Still, many Cougar Night patrons missed the joke completely and, for a period, cleared out.
Now, the crowds are back though, and crucially, at peak hours on many Thursdays, men outnumber women at least four to one. "It's like the only place I found where it's so easy to meet [men] for whatever you want," says a 30-something Pilates instructor standing in the throng with two women friends. "If you just want a one-night stand, it's a good place. If you want to meet someone for long-term, it's a good place. If you just want someone for the money, it's good, because a lot of them are married" — with wedding rings on — "and they're going after girls. It's crazy."
But in a workaholic region with limited nightlife options, the Rosewood is about to get some competition. Tony Perkins, a tech journalist, VC, and CEO of a Silicon Valley media and networking company called AlwaysON, was an early regular at the Rosewood, back when people weren't afraid to say so. "Then it just got overrun by gold diggers and Russian hookers all over." So, Perkins is opening an alternative — a private social club four miles down, away from the Rosewood for a more "filtered" crowd, he says. Called the Cuckoo's Nest, some 1,500 founders, investors, and artists will pay a $2,500 membership fee to attend fireside chats, meet-the-press events, and pitch nights. ("Strangely enough, pitching your ideas and showing your business plans is a form of entertainment for us," he says.) They'll also listen to live music and commune in the garden with plaques commemorating area locales of Silicon Valley lore like Hewlett Packard's founding in a garage and Steve Jobs's house. Perkins wants to keep it amenable for singles to meet, aiming for 51 percent women, who will be held to the same membership standards as the men. (Read: No gold diggers wanted.) So far, the early bird registration is hovering at about 31 percent female.
The club has the potential to skim a certain element from the Rosewood's crowd. But it won't have the Rosewood's tony Sand Hill Road address or its particular reputation that now brings in international-business tourists (I met one from Dubai) hoping to see a real, live American cougar.
Meanwhile, at the Rosewood, the clock nears Thursday's midnight closing time, and the pickup artistry grows more frenetic. A young Facebooker laments the power dynamics that, for once in the Valley and in this very limited way, put women in the deciding role. "It's all up to the girls, dude. They have the choice."