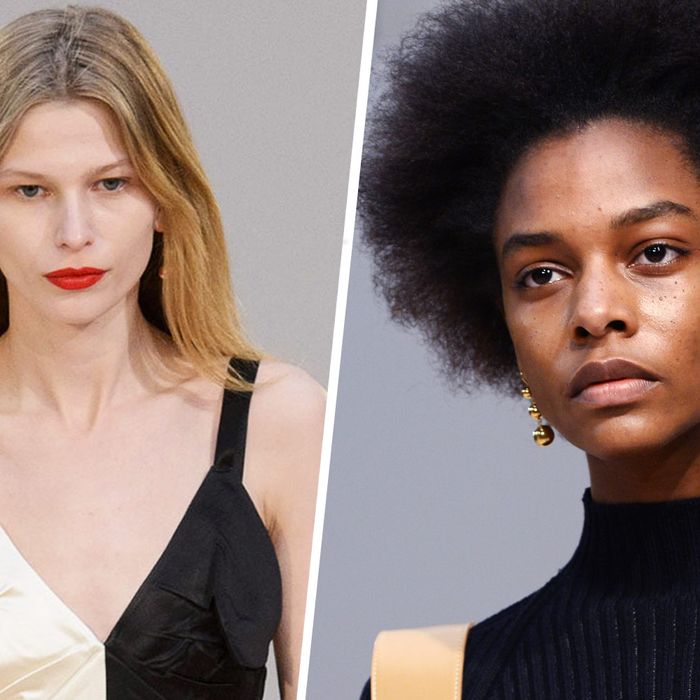 Céline beauty looks.
Photo: Getty Images, Imaxtree
One of the constant questions asked of master hairstylists and makeup artists backstage is: How do you get the look at home? It's a question that beauty editors ask ad nauseum while trying to distill the meaning and practicality of trying crazy eyeliner or think about how regular women might attempt to style their baby hairs. Sometimes the answer is simple, and other times not — don't attempt those gold face masks at Rick Owens, for example. Some looks are for real life and some are for fantasy and inspiration.
In the past few seasons, runway beauty has taken a turn for the real and natural. Yes, there's been the occasional crystal-studded face mask, but Marc Jacobs debuted a show with no makeup. Runway shows have featured a post-workout glow, lip balm, and no mascara. These are all things the beauty press has lauded as "real." But this past weekend's Céline show showed beauty in its truest iteration on the runway.
Most noticeably, the Céline show celebrated individuality. It's often said that beauty is meant to celebrate the individual, but in fashion, that's not always the case. Many designers create cohesion for their vision through uniformity; each model in a show, from Malaika Firth to Karlie Kloss, gets an identical hair and makeup look. But at this season's Céline show, which questioned "What looks authentic?" each model was given a notably different hair and beauty look. There were models with bare makeup, just red lipstick, a teal swipe over the eyes, and some with both a lip and an eye look created by makeup artist Dick Page. Some models had loose ponytails, some had loose, flowing hair, some were given baby bangs, and one model had natural hair.
Redken creative consultant Guido Palau described the look as "really letting each girl's individual personality shine through by just enhancing the natural textures and movement in the hair." The Cut's fashion critic, Cathy Horyn, called the beauty heterogeneity "telling," describing it as "an effective nod to how wonderfully variable and unpredictable women can be in their self-presentation." What a woman or person considers to be authentic is individual, and that's beauty in its realest and most interesting form. Here's to celebrating more of that realness on the runways next season.