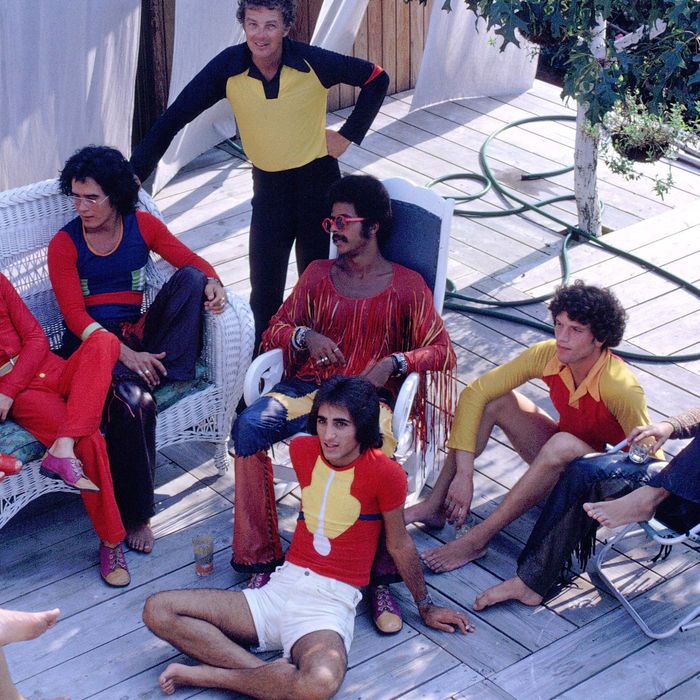 Burrows on Fire Island with friends.
Photo: Courtesy of Flatiron Books
Though by all historical accounts the 1973 Battle of Versailles sounded like a competition of Mighty Duck proportions — with the French designers facing off against the underdog Americans — it was, according to one designer there, not immediately clear that it was an actual competition.
"We weren't nervous, because [we thought] it was a benefit — and not the Battle of Versailles that it turned out to be today," the legendary American designer Stephen Burrows recently told the Cut.  He says that the Americans' goal going into the competition was simple: "to raise money to restore the Palace of Versailles." Soon after he and the American team arrived in France, though, it became clear that it was much, much more than that. "After the French show, there was room for improvement," Burrows says, pausing. "We wrecked them. They were screaming and yelling and throwing things in the air. It was real pandemonium, and we realized we had been the best part of the evening, which made us all very proud."
One moment, in particular, made him especially overjoyed: When Pierre Bergé, business partner of Yves Saint Laurent, said he was the "only" American designer. "Because we couldn't be backstage during the performance, they made all the designers sit outside, and I was right next to Saint Laurent and afterwards he told me how beautiful my clothes were — they were ravissant — and that made my whole trip. It was really quite unbelievable." Going in with no expectations and emerging with a whopper of a compliment from a fashion legend: quite unbelievable, indeed.