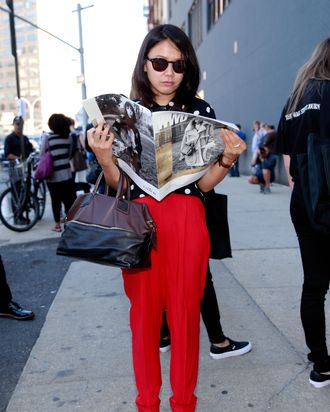 A showgoer reading WWD at Fashion Week.
Photo: Charles Eshelman/Getty Images
Today, Women's Wear Daily announced that the fashion Bible will be transitioning into a weekly edition. The 105-year-old institution included a statement in its pages stating that daily publication will cease on April 24, replaced by a more in-depth weekly edition. While the tradition of the day's paper landing on desks every morning may be ceasing, WWD has been covering breaking news online around the clock for some time, and the piece promised increased WWD.com coverage of news, which will include a Digital Daily roundup of stories to be emailed to subscribers. The paper is also expanding internationally, with a focus on emerging markets — adding Brazil and China bureaus to its existing London, Paris, Milan, and Tokyo outposts, and adding correspondents worldwide.
The statement concluded, "In a media age where algorithms, aggregation and native content have reshaped and destroyed many news organizations, WWD's core values and mission remain. Get the story first. Be right. Be fair." And, in the spirit of the late John Fairchild, it concluded, "If an eccentric personality or two make things interesting along the way, so be it."