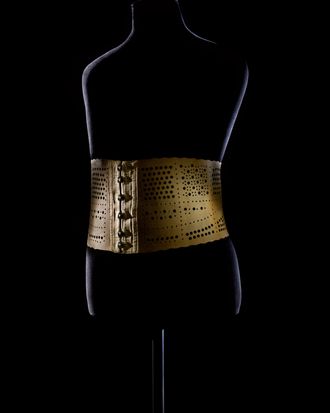 A corset on display in the "Fashioning the Body" exhibit.
Photo: Patricia Canino / Courtesy of Bard Graduate Center
If your main association with shapewear is that for the female form — from long-ago whalebone to Kim's waist trainer — you may want to visit the "Fashioning the Body" exhibit, which recently opened at the Bard Graduate Center on the Upper West Side. There you'll see all manner of shapewear for men and even children. (Apparently, even the junior set was not exempt from foundation garments.) Curator Denis Bruna, who has been with the exhibit since it opened at Les Arts Décoratifs in Paris, walked the Cut through some of the most unusual underpinnings adopted by dandies over the course of the 18th and 19th centuries, from padded calves to wasp-waisted jackets.
"The breeches in the 18th century were short and stopped right below the knee, so it was desirable to have a nice S-curve to the calves," Bruna explained, thus the popularity of socks with interior padding. "Around 1820, men wore corsets, certainly for the first time in the history of clothes," he added, "because it was important to have a very tight and thin waist."
The redingote, a Francophone mispronunciation of the English riding coat, was another popular style favored by dandies for its ability to create that enviable hourglass shape. Redingotes often featured padding as well, Bruna explains, "to accentuate the volume of the torso and the smallness of the waist. And most important for the dandy was the cravat, because it was a very difficult exercise to make a beautiful knot." (If there was even the tiniest dimple in the knot, he says, they started over.)
When dandy style migrated to France from England in the 1830s, it was much mocked in the press. "It was a small phenomenon, but only in the very intellectual [classes] — artists, writers. But the style was criticized because men would spend time in front of a mirror arranging their cravats. The criticism was 'This isn't a men's activity; it's a women's one.' Dandies were considered very feminine."
And while it began to fade away mid-century, some aspects of dandy style are still a part of men's fashion, principally the use of black. "If we look at the street now," Bruna points out, "most men wear black clothes, and at the time it was considered a very smart color, and we have kept black as the [traditional] color for evening clothes, like the tuxedo." So remember: The next time you suit up in black-tie, you have some centuries-old sartorial pioneers to thank.