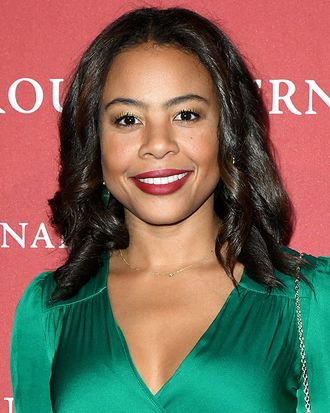 Nancy Twine, founder of Briogeo.
Photo: Jared Siskin/Patrick McMullan via Getty Images
By the time Nancy Twine reached her 30th birthday, she had left a successful career as an executive at Goldman Sachs, launched her own beauty line, and attracted interest from Sephora. Briogeo, her brand, draws on the memory of her grandmother's handmade, natural hair-care products.
Twine spoke with the Cut about starting her business without a beauty background, juggling two jobs, and what she says when asked if Briogeo is "ethnic."
You launched Briogeo in 2013 while working in finance and without a background in beauty. How were you able to transition careers?
It was definitely a very steep learning curve. I started out in finance, but by year five, I realized that even though I was challenged, the passion just wasn't there. It's hard to think about doing anything long term if there's no underlying passion for what you're doing. I always liked math and business and knew one day I wanted to branch out to pursue an entrepreneurial path. Starting my career in finance really helped me to solidify those skills and learn a lot about project management, budgeting, strategy, business planning, and sales.
I've always been very much a beauty junkie, and I love hair-care products. I started noticing the big shift that was going on in the personal care space, where more and more natural brands were popping up on the shelf. I found it interesting because I was making natural products with my family years ago. I really wanted to be a part of what was going on. I started doing some research and I realized that there was a lot of opportunity within the hair care space.
How did you go about launching Briogeo?
There were a lot of things about product-making that I didn't know how to do or have the resources to do. I had to figure out how bigger brands do it, and I honestly had no idea where to start. I started telling a lot of my friends about my idea. As I would tell friends, they were like, Oh, I have this friend who started a soap line or I have this friend who has a men's grooming line. They then put me in touch with people who did similar things.
The first person I spoke to was a guy who created a men's deodorant line. He told me about contract manufacturers, which are labs that work with all sorts of brands that don't have their own lab. After doing some networking, I found a contract manufacturer who actually specializes in natural products. I worked with them for close to two years on developing our first four products.
You did all of this while still working full-time in finance?
I was doing all of this after work and on the weekends. For one, I needed the money to fund all of this. It was expensive to pay people working in the labs. I basically gave up my social life for two years just to find the time to do it. Before I knew it, I had these four products packaged up. I found out about Cosmoprof, North America's largest beauty trade show. And that's how I got my first account, Fred Segal in Santa Monica. And then Urban Outfitters. I also met the buyers at Sephora at the show.
How were you able to convince Sephora to sell your brand?
The buyers at Sephora are very thoughtful and strategic. After a few months of talking with them and sending them the great feedback and customer testimonials, they were willing to give my brand a try. I remember it was February of 2014 when they called me. I was actually at work [at Goldman Sachs] and I was like, "Oh my gosh, this was the moment I had been waiting for." It was the time for me to figure out if I was going to run this company full-time. I resigned from my job and April [of 2014] was my last month at work.
What advice would you give to aspiring entrepreneurs?
Having at least 6 months of living expenses put away in savings will help bridge the gap if things don't move as quickly with the business as you'd might like. When starting out with investors, it may be a good idea to focus on family and friend fund-raising through platforms like Kickstarter. Focusing on family and friends in the beginning will also give you the opportunity to practice your pitch before standing in front of more formal investors.
What is it like being a black female entrepreneur in the beauty industry?
As a woman of color in the beauty business, an important goal for me is to encourage other diverse woman to pursue their passions and to never feel hindered or disadvantaged by gender or ethnicity.  There are a number of female leaders who have helped pave the way for diverse woman to be recognized for their skills and talents and I feel fortunate to be in a place where I've never felt like my background has put me at a disadvantage — or at an advantage, for that matter.  I truly believe that it's hard work, passion, and dedication that make you stand out. And within the beauty business, specifically, I feel it's an equal playing field — with creativity, vision, and work ethic being the major drivers of success.
What type of hair do you have in mind when formulating Briogeo products? 
Sometimes people ask me if Briogeo is an ethnic line, and it's not an ethnic line and it's not a non-ethnic line. The products are marketed toward all ethnicities and we have three distinct hair-texture types. I really want to position Briogeo as a line for everyone and part of my reasoning for doing that is that I come from a mixed background. I wanted all of my friends and all of my family members to be able to use Briogeo products and not feel like they were meant for someone else.
This interview has been edited and condensed.