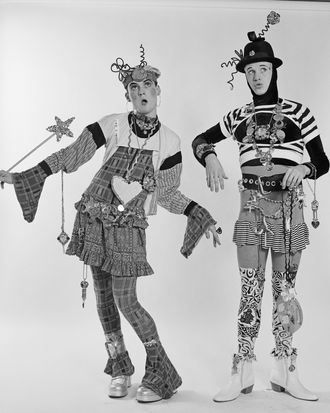 Fashion designers Stevie Stewart and David Holah of Bodymap, New York City, 1987.
Photo: Janette Beckman/Getty Images
There's a new theme every day on It's Vintage. Read more articles on today's topic: Club-Kid Style.
At BodyMap's 1984 show, titled "Barbie Takes a Trip Round Nature's Cosmic Curves," the fashions on show competed with the front row, where Boy George, in a black wig and bright-turquoise fingerless gloves, sat next to an equally turned-out Marilyn. Luckily, the collection lived up to its gender-bending audience: It starred androgynous model Leslie Winer and even included male models wearing skirts and bras. The look caused a stir, even though designers David Holah and Stevie Stewart didn't plan to do so. As Stewart told the Washington Post's Nina Hyde at the time, "We didn't have enough women models, so we put the skirts on men. It looked so well that we decided to show it that way on the catwalk." She quickly added, "We designed them for women, but we like to see men wear them." The show was backgrounded by projected scenes from Barbarella and the finale involved two men kissing. "I think we'll pass on this one," a scandalized Gimbels buyer told Hyde.
It was a typical spectacle for the club-culture-influenced London label, who had become known for playful shows with unusual titles, like "Querelle Meets Olive Oil," or "The Cat in the Hat Takes a Rumble with the Techno Fish." (The latter was an inspired mash-up of the Dr. Seuss book and the Francis Ford Coppola movie Rumble Fish.) The mise-en-scène was intentionally lo-fi. "It wasn't about money or celebrity," Holah recalls now to the Cut, "but more of an anarchic approach.
"All the models were chosen specifically to confuse. Feminine-looking boys and boyish girls performed on the catwalk, hair covered by bald caps. The no-makeup makeup look on all models made it hard to tell boys from girls; boys wore the girls' clothes and girls, the boys'." Size diversity was also important to the duo, especially when debuting their stretch clothing. "We wanted to demonstrate that it could be worn by all shapes and sizes — so we had young, old, larger ladies amongst new up-and-coming models and dancers and personalities of the time."

The name BodyMap came from the artist Enrico Job, who collaged together photos of his body parts in the '60s. And the choice was apropos, given that the label was presciently body-conscious, with a focus on fitted jersey pieces and convertible separates. Simon Collins, a member of the It's Vintage advisory panel, notes that the materials Stewart and Holah used were everyday and approachable, even if the results were not: They opted for "the most inexpensive fabrics — jersey and toweling and fleece and neoprene." 
But while the raw materials may have been quotidian, the results — thanks to revealing cutouts — were anything but. Collins's girlfriend at the time owned a memorable piece by the pair. "It was a simple tube dress, really, [it] came down to her knees," he recalls, "but it had a hole, a circular hole, cut just below where girls get 'tramp stamp' tattoos now. It was almost like a window for a tramp stamp." (This, mind you, was well before Alexander McQueen cornered that very specific market by inventing the "bumster" pant.)
Another BodyMap signature was their prints, done with the artist Hilde Smith. And in addition to Boy George and Marilyn, luminaries like Leigh Bowery, dancer Michael Clark, and singer Helen Terry could often be found at the brand's shows, while photographers like Mario Testino and David LaChapelle were early documenters of BodyMap's dizzying vision.
Part of what made BodyMap so exciting was its departure from the upper-crust, Sloane Ranger mold of British fashion at the time. "They weren't relying on couture techniques," says Collins, "and they weren't relying on the aristocracy patronizing them. They were just these mad kids doing what they felt was really exciting. As much as they were showing alongside the fashion establishment in the tents of the Chelsea barracks, they were also doing these runway shows where models were rolling down the runway. They were totally confounding what was really going on."
Today's athleisure craze owes a definite debt to Stewart and Holah's sport-influenced separates. "You can't deny that they were the early pioneers in that," says Collins. "You look at what some of the big sports companies are doing now — I can't say that they've looked at BodyMap and have been influenced by it, but I think that what BodyMap pioneered is something that is still influential today."
"They were storytellers as much as they were fashion designers," recalls Gill Linton of Byronesque, the influential vintage e-commerce site. "They had logos that made statements, like T-shirts with 'BodyMap' written all over them." The duo's cheeky sense of humor carried over not just to their designs, but to their public appearances; in a strange corollary to Katharine Hamnett's much-documented meeting with Margaret Thatcher, where she wore a T-shirt with the message "58% Don't Want Pershing," Holah attended a cocktail reception with the prime minister, and wore a fuzzy raccoon hand puppet. (Unfazed, the Iron Lady shook his other hand.)
Although the label folded in the early '90s, the designers have recently done a partial revival as part of Selfridges's influential Agender project; Holah and Stewart have contributed BodyMap logo T-shirts and tote bags. Gender-neutral clothes have become a juggernaut, but once again, BodyMap was early to the party. "When we were designing BodyMap collections back in the '80s, the clothes we designed didn't really conform to gender boundaries," says Holah, "so it was relevant to the concept. It was great bringing it back into today's arena, and the response has been fabulous."